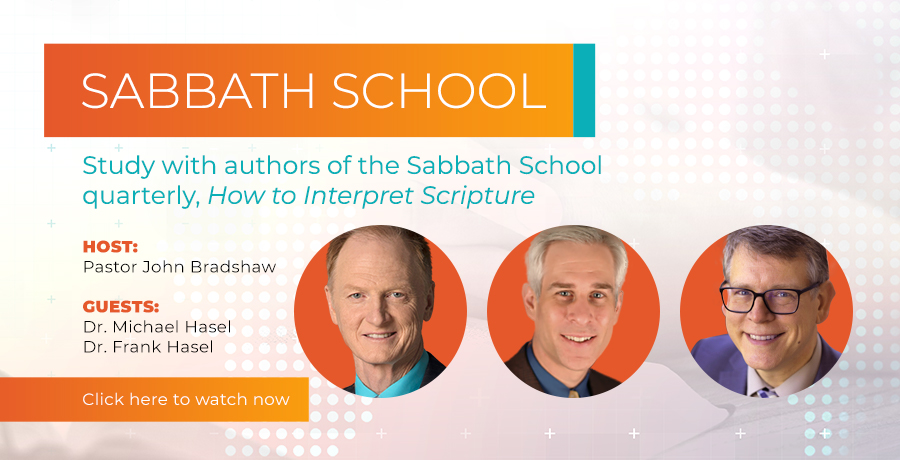 Updated 4:34 p.m., May 7, 2020.
It Is Written will continue to air relevant, uplifting, and inspiring content for those who are unable to attend church. Join us this weekend on It Is Written TV (www.itiswritten.tv) for Bible study with special guests Dr. Michael Hasel and Dr. Frank Hasel, followed by a special sermon from Pastor John Bradshaw from the Revelation Today: Hope Awakens series.
During the Bible study, aired multiple times during the weekend, the presenters take an in-depth look at how to correctly interpret Scripture. The study guide used in the program and written by the Drs. Hasel (cousins) can be accessed here for free. Past Bible study programs can be viewed here. A companion book to the Bible study guide is available for purchase from the It Is Written shop.
From May 2 to May 16, John Bradshaw presents a new Hope Awakens sermon. Hope Awakens is the It Is Written online evangelistic series studying the books of Daniel and Revelation as they relate to current events. Learn more about Hope Awakens and watch past presentations here.
Previously, John Bradshaw preached new sermons for the first several weeks of the COVID-19 pandemic. Those sermon episodes can be viewed here.
See the schedule below for airtimes.
Schedule:
(all times are North American Eastern Daylight Time)
Friday
8:30 p.m. Bible study
Saturday
10:30 a.m. Bible study; 11 a.m. Hope Awakens Presentation
1:30 p.m. Bible study; 2 p.m. Hope Awakens Presentation (repeat)
5 p.m. Hope Awakens Presentation (repeat)
Sunday
10:30 a.m. Bible study
It Is Written TV is available online at itiswritten.tv and on YouTube, Amazon Fire TV, Apple TV, Google Play, Roku, and through the It Is Written mobile app. Additional Hope Awakens presentations may be found at hopeawakens.org.
It Is Written TV features not only a 24/7 livestream but also all It Is Written programming on demand: the award-winning It Is Written series; the new shows Conversations, Line Upon Line, and In the Word; several Spanish series, including Escrito Está; It Is Written Classics with founder George Vandeman; and other high-quality programs.