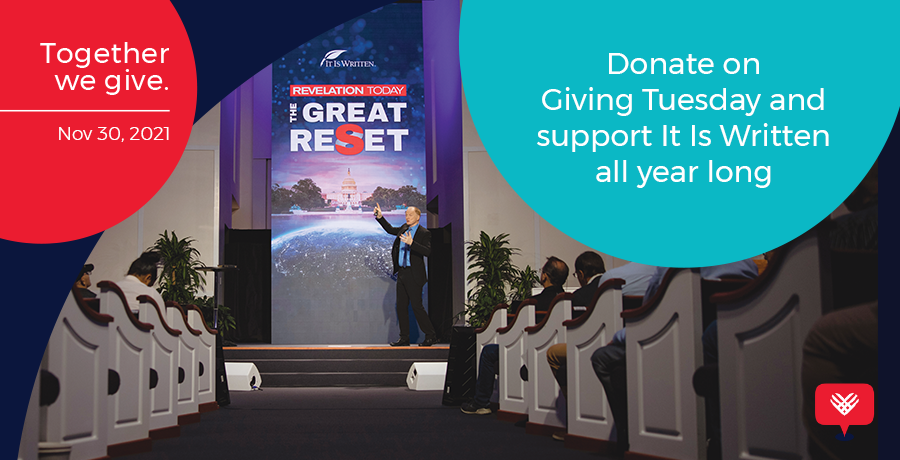 We recently concluded Revelation Today: The Great Reset. After watching the series, Kate shared this with us:
"I have been out of the church now 25+ years. I have listened to every message from the seminar, and I want you to know I have made the decision to come back to God. I will be baptized next month. Thank you most of all for allowing God to use you as a messenger of his true love for me. I praise God for directing me to your message of truth. I can't wait to be baptized!"
Wow! That's why we, together, do what we do. Your support of It Is Written makes it possible for testimonies like this to be shared.
On this Giving Tuesday, we'd love for you to make a gift today and enable It Is Written to continue sharing the gospel around the world through television programs, mission projects, online and in-person evangelism, and faith-sharing resources.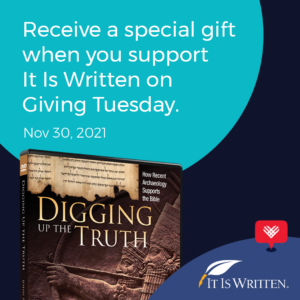 When you make a gift of any amount on #GivingTuesday, November 30, you will receive a FREE Digging up the Truth DVD Set as a thank you. In these two programs, archaeologist Dr. Michael Hasel joins Pastor John Bradshaw and shares important archaeological discoveries from Israel, showing how archaeology proves the reliability of the Bible.
In addition, Pastor John will broadcast live from the It Is Written Facebook page to say thank you and share an inspiring testimony or two. Join him LIVE on Tuesday, November 30, at 1:30 p.m. EST.
Ways to give:
1. Click the donate button above.
2. Call 800-479-9056.
3. Mail a check or cash donation marked "Giving Tuesday" to It Is Written, PO Box 6, Chattanooga, TN, 37401.
Here are other ways to support It Is Written throughout the year:
Shop on AmazonSmile.
Support It Is Written with your Amazon shopping. When you select It Is Written as your designated charity while shopping on smile.amazon.com, the AmazonSmile Foundation donates a portion of every purchase to It Is Written.
Add It Is Written » or Learn more about AmazonSmile »
Order an Eyes for India mission kit.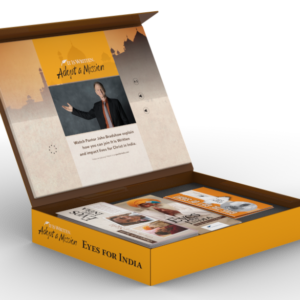 There are endless ways that you can raise funds to support It Is Written projects like Eyes for India. Whether it's a church fundraiser, small group project, or birthday activity, you can make a big difference in the lives of others and have a great time doing it. This kit provides everything you need to make your fundraiser a success!
Learn more about the Eyes for India kit »
Set up a monthly recurring gift. 
Give a gift every month automatically through your credit or debit card or checking account.
 Visit our donate page » or call 800-479-9056 to get started.
Become a ministry Partner.
Partners support It Is Written with a commitment of at least $125 per month or $1,500 annually. Special events are held for Partners every fall.
Learn more about becoming a Partner »
Make a Planned Gift.
You can help It Is Written make an eternal difference with a planned gift, will, or trust through your financial and estate plan.
Learn more about Planned Giving and Trust Services »