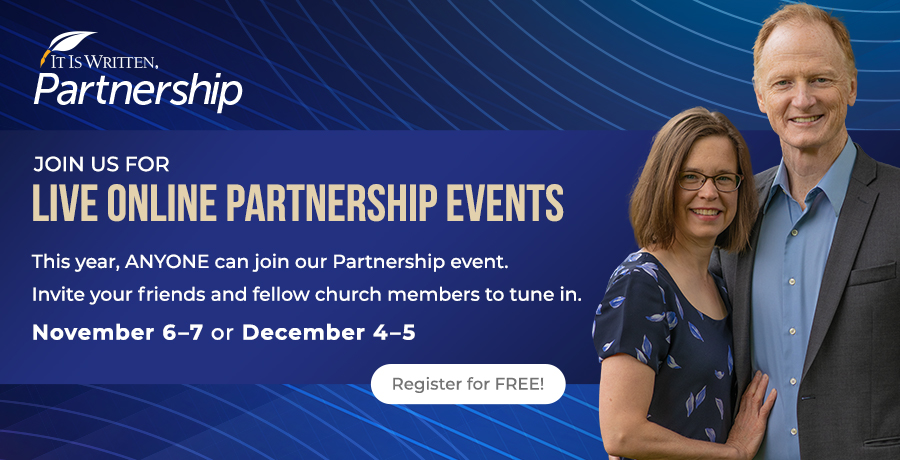 Since 1975, hundreds of It Is Written ministry Partners have gathered with the It Is Written ministry leadership team at weekend Partnership events. Owing to the COVID-19 pandemic, It Is Written will be conducting most of its 2020 Partnership events virtually for the first time.
"While we really love getting together with friends of the ministry, I'm excited that anyone can now attend a Partnership event," said Pastor John Bradshaw, It Is Written president. "These events are mountaintop experiences. Many people have been attending for years, decades, even. I'm looking forward to meeting virtually and having more people join us than ever."
The free Online Partnership will broadcast live from the It Is Written studio in Collegedale, Tennessee, on November 6-7, 2020. It may be watched on itiswritten.tv, Facebook, and anywhere It Is Written TV airs, including Roku, YouTube, FireTV, and Google Play TV. Broadcast times are as follows:
Friday, November 6, 2020: 7:00-10:00 p.m. EDT

Sabbath, November 7, 2020: 1:00-4:00 p.m. and 7:00-10:00 p.m. EDT
An additional broadcast will occur December 4-5 either as a livestream from the ministry's Partnership weekend in Gatlinburg, Tennessee, or as a live event filmed at the It Is Written studio. 
"We have a lot to share about what God is doing through the ministry of It Is Written," John Bradshaw said. "While church services were canceled, evangelism was not. We have been busier than ever, and we'll be talking about incredible things we've seen the Holy Spirit do." In addition to outstanding music from Partnership musicians, the event will also feature inspiring messages from the Bible and reports of many ministry initiatives.
Historically, It Is Written Partnership weekends are attended by those who support It Is Written financially. "In a certain sense, these events are shareholders' meetings," said Yves Monnier, evangelism director at It Is Written and the Partnership emcee. "We would normally be getting together in Tennessee, Florida, Pennsylvania, California, or Oregon and sharing exciting reports. But this year will be especially inspiring. I'm thrilled we can have more people attend than ever before from the comfort of their own homes."
To watch a special invitation video from John Bradshaw and register for Online Partnership, visit itiswritten.com/partnership. You may also become an It Is Written Partner and register for next year's in-person events at the Partnership website.