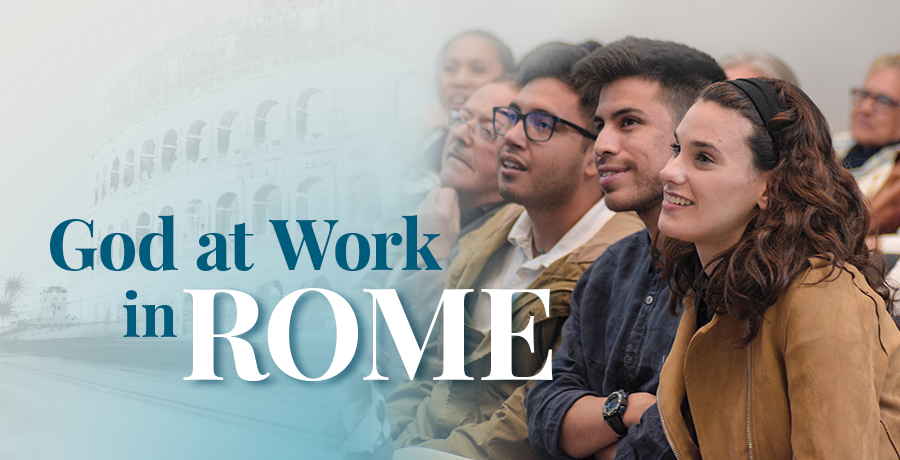 On May 19, the It Is Written evangelistic series in Rome, Italy ended on a high note: 27 baptisms and many more people preparing for baptism! This is the result of much work and prayer. These numbers really are phenomenal when you consider that this evangelistic series was just one mile from St. Peter's Basilica.
Mariarosa Cavalieri, the local evangelism coordinator for this project, received her evangelism training at SALT, It Is Written's evangelism training school. Returning home to Italy, she worked tirelessly for more than a year with the pastors and members of the four churches in Rome that were participating in this evangelistic outreach.
Behind the numbers are inspiring stories of people God had long ago prepared for such a time as this.
Marco had been drifting through life when he made contact with church members. They invited him to study the Bible, and as he did, Marco felt God calling him to surrender his life to Him and accept Jesus as His Savior. But life in Rome is filled with the distractions of a busy, bustling city, and Marco's background in the Catholic church had left him feeling jaded towards religion. When Marco heard the message of the Bible, his heart was stirred. He met with the local church pastor and declared that he was ready to commit his life fully to Jesus. Marco was baptized on the final day of the evangelistic series.
When the Leone family attended It Is Written meetings in Rome eight years ago, the tires of their car were slashed. Refusing to be discouraged, they persevered in their faith, and during this It Is Written series they had reason to rejoice when their nineteen-year-old son, Giorgio, was baptized.
Three years ago in Moldova, Magdalena was diagnosed with a rare and potentially deadly disease. In order to receive the best medical care possible, Magdalena moved to Italy. While under treatment, she became acquainted with a Christian family and started taking Bible studies.This past January, after one year of intensive treatment, she was declared disease-free. Then in May, the family invited her to the It Is Written evangelistic series. At the end of Pastor John Bradshaw's meetings, she was baptized. This has truly been a great year for Magdalena.
Jacob and Trust fled to Italy from Nigeria two years ago. They crossed the Mediterranean Sea from Africa to Italy crammed into a small boat. They described their experience from Nigeria as "horrific," witnessing the beating and deaths of many people along the way. They arrived in Italy to a new life without fear and with the hope of a bright future and made friends with Christian believers who invited them to attend the It Is Written meetings. On May 19, both Jacob and Trust were baptized. Jacob is now considering becoming a pastor!
Julia grew up in the church in Brazil, but she drifted away from faith in God. Although she forgot about God, God never forgot Julia. Around the same time she started recognizing God's voice, she connected with Sara, another Brazilian living in Rome. Sara was a member of one of the churches participating in the It Is Written evangelism project and invited Julia to attend. Julia attended with her atheist husband and was deeply affected by the moving of the Holy Spirit. Julia is now preparing for baptism!
A local pastor prays with the candidates before baptism.
Baptisms were held at two sites on Sabbath.
Those who were baptized came from near and far, including this man from Nigeria.
For a time such as this God brought It Is Written to Rome so that Marco, Giorgio, Magdalena, Jacob, Trust, Julia, and many others could be blessed by the refreshing word of God. Even though our meetings are now over, the work is far from done. Mariarosa, the pastors, and the church members in Rome are committed to keeping the momentum going. They are so thankful for the "push" they have received in a place where evangelism is very difficult. As Mariarosa said, "God has brought us closer to one another and has motivated us to serve Him more."
The best is yet to come in Rome and beyond.
Names have been changed.