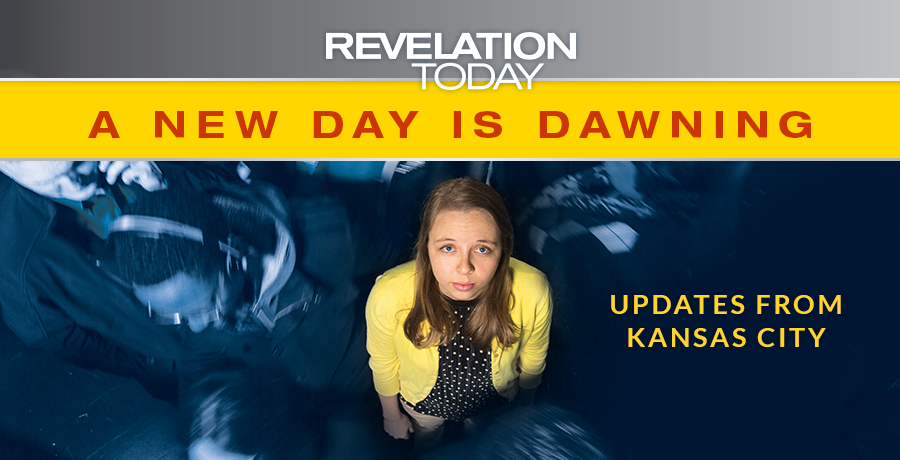 Our Revelation Today meetings in Kansas City are well underway, and God's word continues to impact the lives of those who attend. For over a year, Bible workers have been preparing the area through one-on-one Bible studies, prayer meetings, and smaller evangelism campaigns. The stories from the meetings are pouring in, and we wanted to share a few of them with you.
After one of the meetings Abigail was talking with her friend Evelyn. Evelyn shared that her picture of religion was a constant message of, "You don't measure up." The two discussed that the true gospel message is a message about Jesus and acceptance. Evelyn had always had a hard time studying the Bible–it never made sense or she didn't get anything from it. But Abigail reminded her that she needed to only look for one thing, the big picture: "That's what John does," Abigail said, referring to Pastor Bradshaw's evening meetings. "Each night he shares with us a Bible principle: trust God; God is for us; Jesus is with you. When you have the big picture," she continued, "hang that picture in your mind so that it helps you every day of your life." Evelyn mulled this over and then said, "John is hanging a lot of pictures in my mind this week!" She then shared how her mother had come to similar meetings in the past and would come home all excited. "I didn't understand why she was so fired up. Now, I get it."
Stephanie and her friend Olivia have been studying the Bible together for about a year. Every time they got together to study, and even when Olivia started going to church, she invited a neighbor, family member, or friend to join her. They almost always declined but she kept asking. During the weeks leading up to the start of the Revelation Today meetings in Kansas City, scheduling conflicts prevented Stephanie and Olivia from studying together like they usually did, and Stephanie was having a hard time reaching Olivia: "I began calling Olivia a week before the meetings started to remind her about them. She didn't answer, so I left a message. I called opening night to invite her again but I had to leave another message. I texted her two more nights to let her know what the topics were for each meeting. Again, no response.
"On the fifth day of the meetings, Friday, I texted her and asked her if she was getting any of my messages, because it was unlike her to not respond back. A few minutes later she called me and explained that she had dropped her phone in water and it hadn't been working. I told her about that evening's Revelation Today topic, The Second Coming of Jesus, and gave her the location and time. Olivia said she was really interested in going but she had just gotten off work and looked terrible. I asked her where she was and she gave me the location. It wasn't far from the convention center where the meetings were being held! 'Get here, lady! I said, 'This is a come-as-you-are-to-get-what-you-need' kind of event, so come as you are to get what you need!' Olivia responded, 'All right, I'll go.' I greeted Oliva with a big hug, and we listened to the meetings together. Afterwards, she told me that she really needed to hear the message that Pastor Bradshaw shared: 'I needed hope restored in my heart.' I told her we that we all need more Jesus!  
"Olivia planned to come back the next night. And she did––but she didn't come alone. Yes, after all the times that Olivia had invited people to our Bible studies and church, with no luck, she was finally able to bring a friend to one of the meetings! Both women enjoyed the presentation, and they look forward to the rest of the meetings."
God is moving in Kansas City! Let's keep praying for these meetings as they continue through the end of April.
Some names have been changed.