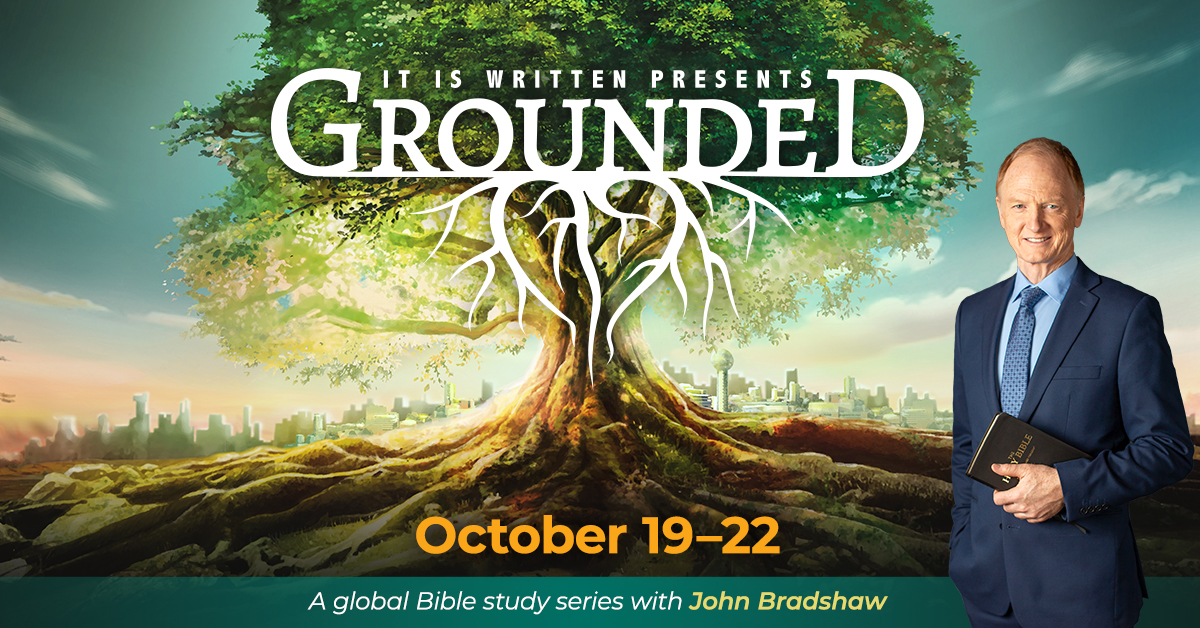 From October 19 to 22, It Is Written will present Grounded. Grounded is a revival series focused on leading viewers into a deeper, more meaningful relationship with God. Presented by John Bradshaw, Grounded will broadcast live from Knoxville, Tennessee. Grounded will air on It Is Written TV, 3ABN, Facebook, and YouTube. Churches and small groups are encouraged to sign up to stream the series. Register and find free promotional materials at grounded.study.
Each session will consist of a one-hour topic presentation, followed by a half-hour Bible study. Churches and small groups can watch the broadcasted Bible study or purchase the It Is Written Bible Study Guides and conduct their own Bible study in-person.
"Grounded is an excellent opportunity to grow your faith in God, and to invite others to do the same," says Bradshaw, It Is Written president. "Grounded is specially designed for both people of faith and people who are only beginning their journey with Jesus. Grounded will give us an opportunity to strengthen our walk with Christ, settle deeply into the teachings of the Bible, receive more of the Holy Spirit, and prepare for the momentous times just before us."
Grounded will air at 7:00 p.m. EDT October 19-22, with a replay each night at 10:00 p.m. EDT on It Is Written TV. A Saturday presentation will also be broadcast at 11:00 a.m. EDT. Viewers may watch live on 3ABN, the It Is Written Facebook and YouTube pages, or It Is Written TV. It Is Written TV is available at itiswritten.tv, Roku, Fire TV, Apple TV, and Google Play. Archives will be available on demand on Facebook and YouTube after the livestream.
For more information, visit grounded.study or call 844-974-8836 (844-WRITTEN).