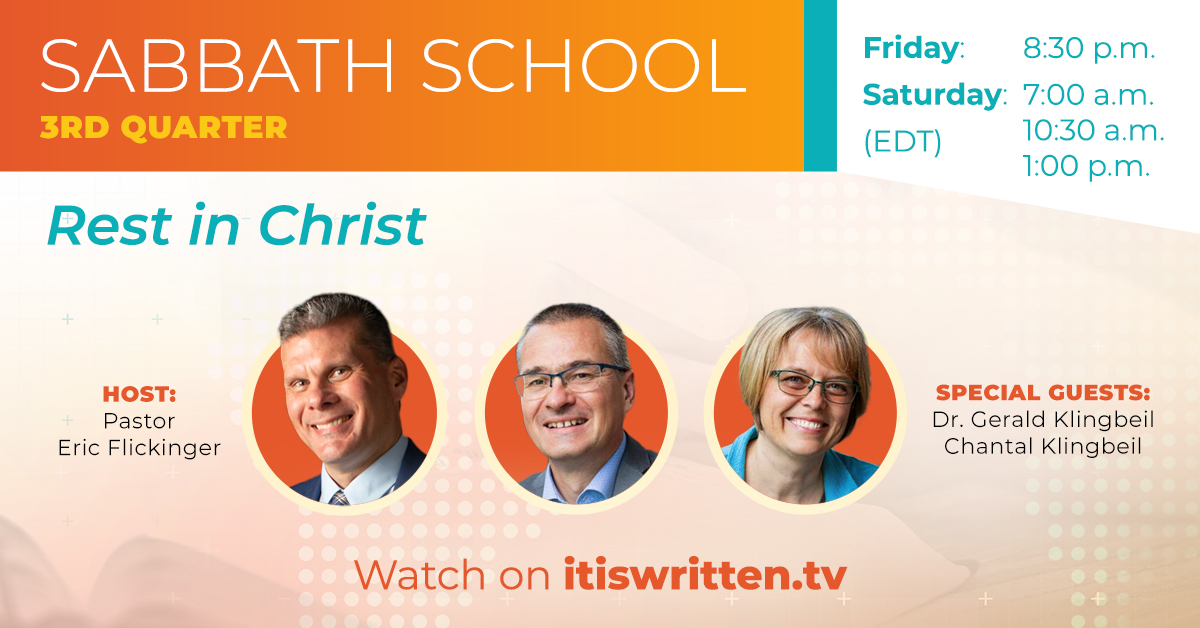 The It Is Written Sabbath School program has launched new content for the third quarter! Host Eric Flickinger, It Is Written associate speaker, is joined by Rest in Christ quarterly authors Dr. Gerald and Chantal Klingbeil as they discuss each lesson study. The half-hour, weekly program is posted at the beginning of each week on It Is Written TV (on demand) and airs on Fridays and Saturdays on the It Is Written TV livestream (see schedule below). A short, daily lesson review is also available on It Is Written TV. Click here to watch Sabbath School.
Rest in Christ is the focus of the third quarter Bible study. Living in a world that keeps most people busy 24/7 can result in restlessness and fear in our lives. But resting in Christ is the key to the type of life that Jesus promises to His followers: "The thief does not come except to steal, and to kill, and to destroy. I have come that they may have life, and that they may have it more abundantly" (John 10:10, NKJV). Rest connects to salvation, to grace, to creation, to the Sabbath, to our understanding of the state of the dead, to the soon coming of Jesus—and to so much more.
A companion book to the Bible study is available for purchase from the It Is Written shop. 
Sabbath School airs on the It Is Written TV livestream at the following times (EDT):
Friday at 8:30 p.m.

Saturday at 7:00 a.m. 

Saturday at 10:30 a.m. 

Saturday at 1:00 p.m. 
It Is Written TV is available on itiswritten.tv, Roku, Apple TV, Amazon Fire, and Google Play.