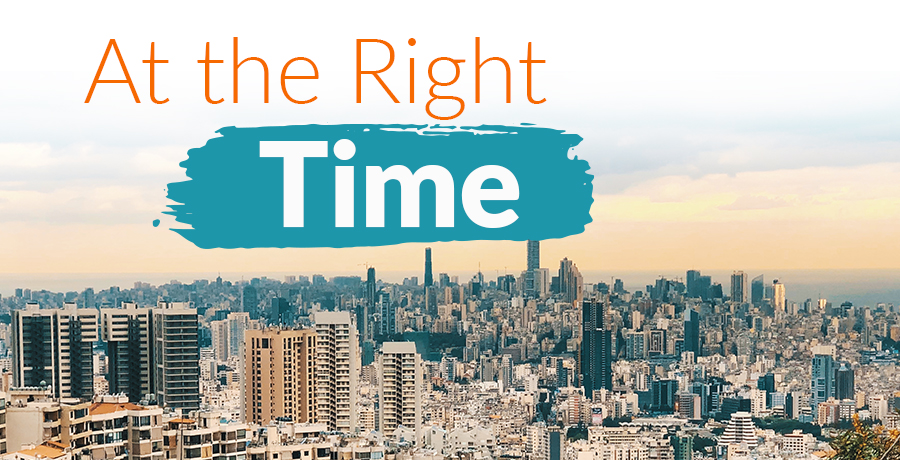 God's time is the right time. It may not always make sense, but it is always the right time. I was recently vividly reminded of that in two very different places in the world: Indianapolis, Indiana and Beirut, Lebanon. These are two of the places in the world where It Is Written is actively involved in sharing Jesus with people. Our approach is simple: Go where God leads and build relationships with those we encounter. This method has proven to be extremely successful.
A couple weeks ago, a group of us went into diverse Indianapolis neighborhoods to distribute the first lesson of the It Is Written Bible Study Guides. By the time we were done, 57 individuals had gladly accepted the lesson and were open to receiving another one the following week. David and Sandy, who were part of our team, stopped by the house of a lady who was watching a preacher on television. She explained to them that she was confused about what he was teaching. That's when Sandy opened her Bible and clarified the confusion straight from the Word of God. The lady was so thankful that she invited them to come back. They did, and together around a table, they are now opening the Bible and allowing it to speak for itself.
A few days ago, just like in Indianapolis, a group of us went into the suburbs of the city of Beirut in Lebanon. There was some fear and trepidation because this city is made up of people who are committed to their family's religion. But where God leads, He opens doors. And He amazingly did that for us. Two of our volunteers found a woman who told them that she's been recently reading the Bible but having a hard time understanding it. My two friends eagerly gave her the first study of a series that they explained would help her understand the Bible. She was so happy. They were at her house at the right time.
Even though I don't speak any Arabic, I joined two other volunteers to go where God would lead us. As we approached a busy apartment building, we ran into a lady who was buzzing someone at the door. My Lebanese friend started conversing with her. She gladly interacted with him. Even when her family joined her downstairs she was in no rush to end the conversation. When we offered her the Bible study lesson, she took it with a smile and was open to another lesson in a week. As we parted, we remarked that if we had arrived at the apartment a minute or two later we would have missed this family altogether. God's timing. After just two days of going into the community like this, 50 homes are open for a return visit. Isn't that awesome?!
Keep praying for It Is Written and our faithful volunteers who go into the highways and byways to find people for Jesus. Millions and billions are searching for something better in life, and we have what they are looking for: Jesus.