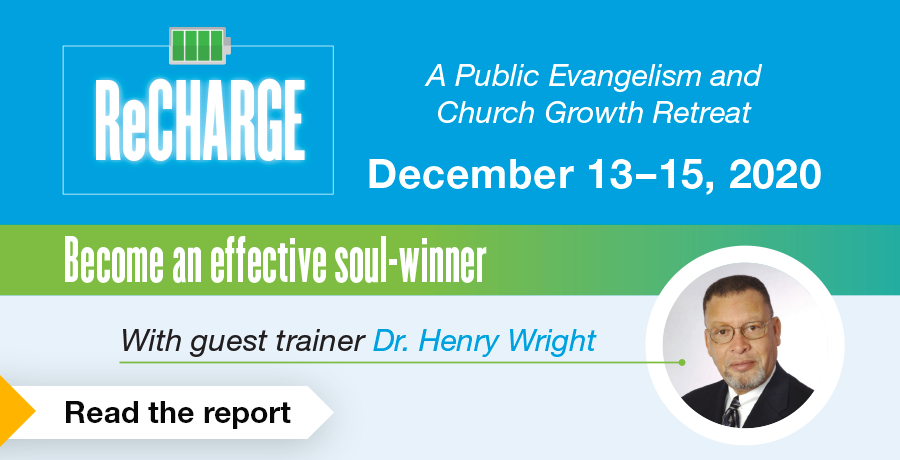 Everything was in place for ReCharge, the annual It Is Written Evangelism and Church Growth retreat.
☑️ Topic: Preaching that changes lives—check.
☑️ Guest speaker: Dr. Henry Wright—check.
☑️ Date: December 13-15—check.
☑️ Location: Cohutta Springs Conference Center—check. 
Everything was ready and then, of course, COVID-19 showed up.
We considered canceling this year's ReCharge for about two seconds and then decided to do it virtually like we had done with Hope Awakens, our April evangelistic series. What happened next blew us away. Transitioning to online allowed over 500 individuals representing 34 conferences to register and participate. About half of the registrants were pastors and lay pastors, and most of them are a part of ACTS 20:21, the one-year evangelism initiative from It Is Written. 
These numbers are not the real story, though. The real story is the vibrant presentations on preaching by Dr. Henry Wright. Dr. Wright, now retired after 53 years of faithful service, is one of the great preachers of the church. During his five presentations, he shared practical insights, not just theories, from his own journey as a preacher.
The webinar included interesting conversations between Pastor John Bradshaw and Dr. Wright that went well beyond the lectures. They talked about the kind of stuff that really connected with the hearts of those who want to take their preaching to a new level. One point that Dr. Wright made that resonated loud and clear was that one should never preach a sermon that doesn't move them first.
One attendee reflected that by the end of ReCharge, "I was certainly recharged." Another individual indicated that as a new elder he was eager to put to practice the things he had learned. And another wrote to us to share that ReCharge had filled him with joy. 
Here are some additional comments attendees shared: 
"Thank you so much for the preaching seminar! It was excellent, and I learned much."
"Thank you so much for the ReCharge presentation. It did just that, recharged me for service!"
"The virtual sessions were very informative and practical."
"Each session was a blessing, a real mountaintop experience for me."
"I very much enjoyed and was blessed by the content of this workshop. I look forward to attending the next one."
"It was a great blessing for me. I was so filled with joy that I couldn't keep quiet. I shared many things that I learned with my wife. To top it all, I had a Bible study in the evening so I was able to use many things that I learned. What a wonderful day."
"It was really good, and I appreciate the time and effort all of you put into making it available and presenting this training for our pastors."
"Great seminar. Thank you for tapping Dr. Wright. I have long wanted to sit at his feet with regard to how to preach."
These testimonies and the many others are the real story—the reason It Is Written organizes this annual event. Our desire is to impact pastors and members in their work of evangelism.