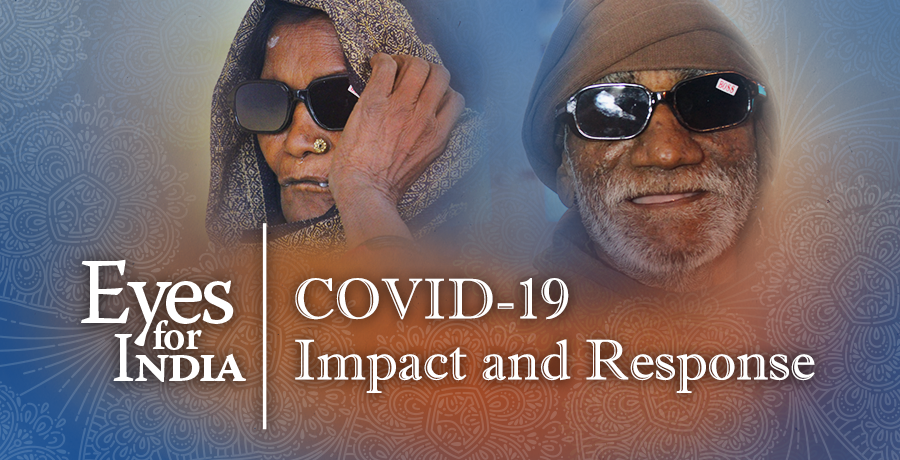 Eyes for India is the long-running It Is Written project restoring sight to the blind through cataract surgeries in India.
Due to the COVID-19 pandemic, Dr. Jacob Prabhakar, Eyes for India ophthalmologist and medical director of Ruby Nelson Memorial Hospital in northern India, had to postpone planned Eyes for India surgeries and hospital services. We recently received a report from Dr. Prabhakar about the scope of the COVID-19 impact in his area and his team's response to it.
Response to the Pandemic
"Eyes For India was progressing very well until March 21 when the pandemic set in, bringing all planned surgical activities to a standstill," Dr. Prabhakar reports. "About 5,000 blind people who were scheduled and awaiting their turn for cataract surgery in various remote locations within India were disappointed that their dreams of getting their sight back through Eyes For India were delayed. We assured them that our services would resume once the pandemic settled down."
Community response
Despite curtailed hospital services, the ministry of Eyes for India continued. Many migrant laborers in local villages were left without food and essential supplies during the lockdown. The Eyes For India team visited these villages and provided free food and essential items to about 50 families. It was such a joy to share the love of Jesus in this simple way.
Base hospital services re-opened 
Dr. Prabhakar and his hospital team worked diligently to reopen hospital services. He reports, "After ensuring all protocols for the safety of staff and patients were in place, the base hospital outpatient services began again on June 1 and surgical services started on June 14. The flow of patients at the base hospital has been steadily increasing."
Screening centers
Due to safety protocols and staffing, the high-volume remote surgical eye camps of the past will not be possible for a few more months. Despite that setback, Dr. Prabhakar and his team have not stopped services altogether. 
Eyes For India has been operating satellite clinics and vision centers to conduct screening activities for future patients in seven strategic locations throughout the country. Services have been able to continue in three centers each week. It is expected that by September all seven of these satellite clinics will again become operational. Patients needing cataract surgeries will be registered in these clinics and will be given appointments for surgery. 
Surgeries resuming
Once surgeries recommence, Eyes for India will transfer about 10 to 15 of these registered patients each day to the base hospital for surgery. This will translate to about 75 surgeries performed per week and about 300 surgeries per month. This strategy will continue until regulations and infection rates allow for the resumption of our high-volume, on-location surgical camps. We are implementing the best practices to ensure the full safety of the staff, their families, and patients while attending to community needs. 
Even though the situation is unpredictable, we have scheduled our weekly surgical camps from September 13 onwards, hoping that the pandemic may settle down to a certain degree, allowing us to carry on our regular yearly schedule. It is our prayer that our services will resume full strength soon. 
Thank You 
While the current pandemic has changed things, Eyes for India is still moving forward. Dr. Prabhakar wants to personally share the following message to those of you who faithfully support this project: 
Thank you, dear donors, for your kindness and generosity that has literally transformed thousands of lives. Eyes For India is committed and strategies have been put in place to continue to serve people across needy communities amidst this changing scenario. The need for restoring sight to the masses continues to be great. 
I thank God for each of you. And with your kind help and support, we look forward to helping thousands who are desperately waiting for their sight to be restored. We are honored to share the precious gift of sight and share personally with them the love of Jesus. 
I remain truly grateful on behalf of thousands of blind who now see!
Jacob Prabhakar