We are collecting Spanish children's books for our mission trip to Puerto Rico. The school library in Vieques was destroyed in 2017 by Hurricane Maria, and we would love to give them as many books as we can!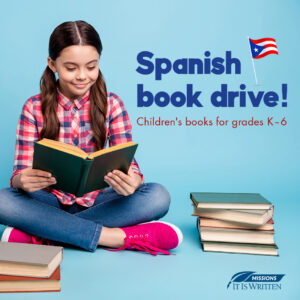 Books must be:
📕 in Spanish
📘 spiritual or educational
📗 for children in grades K-6
📙 in good condition
Send your books by July 7 to:
It Is Written
Attention: Eric Flickinger
9340 Four Corners Place
Ooltewah, TN 37363
Thank you!