Dr. Milton Peverini García, global evangelist, author, and speaker, passed to his rest on Sunday, June 27, 2021, in California at age 88. Peverini García was the first speaker of Escrito Está, the It Is Written Spanish-language ministry. His ministry impacted countless thousands of lives for Christ.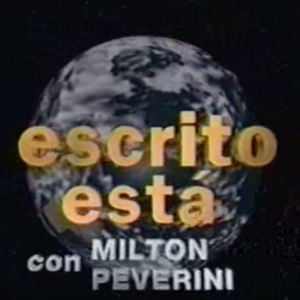 Peverini García joined It Is Written 27 years ago, under the leadership of Mark Finley, former It Is Written speaker/director, and Royce Williams, evangelism coordinator at the time. The first Spanish-language program aired on April 5, 1994, followed by 160 television programs in the next 10 years and 90 songs recorded in Spanish. Peverini García held the position of Escrito Está associate speaker for 10 years, until his retirement in 2004. Under his leadership, the ministry of Escrito Está grew, expanding first to Chile in 1996, then Argentina, Costa Rica, and today, all of Latin America.
Robert Costa, the current speaker/director, joined Escrito Está in 2002 to help coordinate evangelism for the fast-growing ministry. Both originally from Uruguay, Costa recalls working with Peverini García in "perfect harmony and friendship."
Costa shared his appreciation for the ministry of Peverini García. "On behalf of Escrito Está," he said, "we want to express our gratitude, recognition, and tribute to Dr. Milton Peverini García for having been the first speaker of this ministry and, without a doubt, the Hispanic leader who has dedicated the longest time in his life to preaching through the mass media in our church. In both his radio and television programs and in his evangelistic campaigns, he exalted Jesus as the only hope for this uncertain world."
"Dr. Peverini was a giant in ministry," said John Bradshaw, It Is Written president. "The work he initiated with It Is Written laid the foundation for Escrito Está to become a major global force in evangelism and soul winning. His lifelong ministry will continue to live on, and the impact of his devotion to God will be felt throughout eternity."
Peverini García is survived by his wife, Eunice; three adult children, Ricardo, Graciela, and Susana; six grandchildren; and one great-grandson.