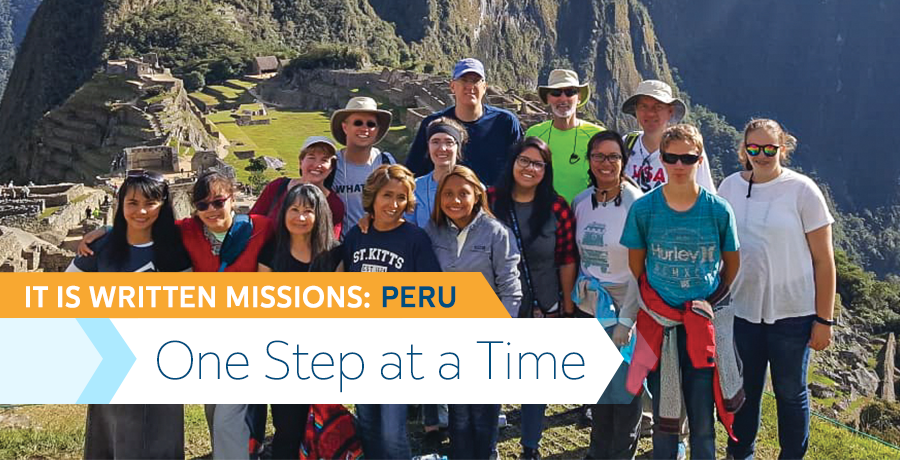 On June 9th, I was on my way to Peru from the Atlanta airport. I had butterflies in my stomach, my thoughts were running rampant, and my heart was skipping beats. Not because I was on a plane, not because I was leaving the comfort of my home, but because I had a big responsibility to It Is Written and to the local people in Peru. 
Let me backtrack a little. I have been doing the logistics, behind the scenes, for several mission trips now. Handling things behind my computer is comfortable, but being in the mission field? Well, that is an entirely different story. You see I have never been on a mission trip before, and now I have been given the task to lead a group of 25 people in a foreign country. I did not know what to expect. But I did know Yves Monnier, It Is Written's evangelism director and my supervisor, expected a lot from me. Rightly so; this was huge! 
When we landed in Peru, we were all exhausted but that quickly vanished due to the overwhelming love shown by the local pastors, our volunteer translators, and the local church school. Wow! We were not expecting that. From that day on, I knew God was going to be right by my side the entire time. No more butterflies, my thoughts were calmed, and my heart went back to beating regularly. God is good.
No time to waste. After our warm welcome, we were transported by the pastors to our hotel, El Portal del Marques, and while everyone was getting their room keys and settling into their rooms, I was being pulled right and left, a question here, a problem there. Whoa! Typically, when I am working on a mission trip back home from the comfort of my computer, once the leader of a mission trip leaves for the country, most of my work is done. That was not the case this time around. Decisions needed to be made, and everything was up to me. No more turning to Yves for direction. This was completely new and foreign to me, but I knew I was ready. "One step at a time," I thought to myself. Decisions were made and plans organized—finally, bed. 
The next morning, Friday, we got ready, bright and early, and were excited about our first day doing the medical clinic. After months of planning this mission trip, I was about to see my work in action for the first time. So many emotions ran through me at that moment. Upon arriving to our first site, one of the small plazas in the city of Cajamarca, more decisions needed to be made. Again, one at a time, I was able to get through them, but not alone. God was right by my side, and so was my team. I can't express my gratitude enough to all the wonderful team members I had the pleasure of working with. As a team, we decided where triage was going to be placed. We then assigned the doctors, which included a local dental surgeon, to individual stations. Afterwards we set up the last two stations: one for our pharmacy and the other for eyeglasses. We gave close to 700 pairs of glasses away for free. Praise the Lord!
Although it was winter in Peru, during the day it was extremely hot. That didn't stop the line from growing. We saw nearly 200 people that day. We were able to help people of all ages, from small issues to severe ones. 
Suranny Sarria, our nurse practitioner, shares her testimony. "It was the first day of the clinic, and I was with a patient when I heard one of the pastors scream 'We need help now, someone just fainted!' I immediately dropped my clipboard and ran to him. When I arrived, the patient was awake and alert, but she was still very pale and weak. I brought her to my station and checked her vital signs and asked her questions about her food and water intake. She said she had a small breakfast. I asked her about her family, and she told me she had been married for two years, since age 18. I don't know what prompted me to ask her, 'Does he treat you well?' 'No,' she answered. I followed with more questions, 'Is he abusive? Does he hit you?' All to which the answer was 'Yes.' She was being abused emotionally, physically, and sexually. I asked her if she could go to her parents; unfortunately they both had passed away. At that time, I stepped away and spoke with Ines Requejo, a local nurse and wife of the campaign coordinator. I told her we needed to report this to the authorities. I went back to the young lady and before calling the authorities, I asked her if she wanted to report this. She agreed; Praise the Lord! Ines took the woman to the authorities where she was able to report the abuse and get counseling and therapy. Before she left, we gave her food, water, and multivitamins. I prayed for her and we cried together. I told her that if I didn't see her here on Earth again, I would see her in Heaven. I also told her how much God loves her and that she deserves so much better."
Before we knew it, it was five o'clock. The whole team was exhausted, but our hearts were touched by the many individuals who trusted us enough to let us help them. 
On Sabbath morning, we had 12 speakers assigned to 12 different churches. Praise the Lord for the hard-working pastors and translators who were also there day and night helping the team. I was assigned to Sabogal Central B with speaker Brian Kretschmar. This was his first time preaching and my first time translating an evangelistic series. A first for both of us. As I was sitting up on the platform waiting for our time, I began to feel butterflies in my stomach and my legs started to feel shaky. As the congregation sang, I began to pray. I heard Brian's name announced, and we both stood. Immediately, I felt the presence of the Holy Spirit. Just like that, they were gone! No butterflies, no trembling, nothing but calmness. God is good.
Everyday had its challenges, but with lots of prayer we were able to get through them. Dr. Mark Murray experienced a challenge with getting medicine. "Each morning," he said, "I was taken by the pastor to the wholesale pharmacy to purchase medications that had been depleted from our inventory. One morning, we showed up, and the pharmacy was closed. We learned that the government had shut them down due to some rules infractions. The pastor got on the phone with the owner of the pharmacy and asked if he would help us. Soon enough someone appeared at this metal door and opened it for us. We walked down a dark alley to the back of the pharmacy. Thankfully, he did business with us, and we were able to continue operating the clinic."
Day after day, our team, although exhausted, was always ready for another hard day's work. Medical in the morning and preaching at night. At every site we went, a big line awaited us. Some people would arrive as early as 4:00 a.m. The need is great in Peru, and we were so thankful that the Lord brought each of us there to help his children. 
Tina Arnall, one of our nurses, told her testimony. "We brought many supplies to treat the people who came to our clinic. However, we had so many people that came to be seen, that we were very limited in the amount of medicines we could give each person. I think we saw around 1,800 while we were in Cajamarca. It dawned on me that we couldn't rely on the medicines and treatments we had brought with us; we must rely totally on Christ for the real healing. It was so beautiful to see the doctors praying with the patients.
One man I prayed with came with four diabetic ulcers on his ankles. He had evidently been managing them for 25 years. I was impressed they weren't deeper than they were and had no odor. With there being such a short time for treatment, I prayed a heartfelt prayer for guidance. I felt a peace over me as I cleaned the wounds and lightly removed damaged tissue. I felt a deep thrill as I thought of Christ washing His disciple's feet and the opportunity I was given to do this for Christ in 'one of the least of these my brethren.' I put charcoal in some ointment, applied a dressing, and did some teaching with him and his family. He came back a few days later, and new tissue growth could be seen. I praised God, and we prayed some more together. In the clinic, I found myself teaching lifestyle medicine because it could really make a difference when our little bit of medicine ran out. One man had a very high blood glucose level. Our medicines had disappeared that day, so Dr. Murray had gone to buy more. I had nothing physical to give the man, so I taught him the principles of reversing diabetes as I had learned from Wes Youngberg's Diabetes Undone seminar. I had him out walking. It was so sad to send people away in the evening. Made me think of the many that thronged Christ for healing. Certainly I'm learning how true it is that the medical missionary work is the right hand of the gospel!"
We had one more day of clinic, but this one was going to take place inside of a penitentiary. Being inside a foreign prison was a first for almost all of us. We didn't know what to expect, but we were all ready to help each individual. The process to enter was long but for good reason: They wanted to make sure the same people that went in, came out. We were all thankful for that. One hundred and fifty prisoners later, both men and women, we were done. Each one of them showed gratefulness for our presence. They each received a El Camino a Cristo (Steps to Christ) book, and they all accepted it with a smile. 
Our last Sabbath in Cajamarca came too soon. It was a bittersweet day–our last Sabbath with our churches, our new families. I will never forget these members who welcomed us with their whole hearts. I'm sure I can speak for the whole group when I say they will all hold a special place in our hearts. We had several baptisms that Sabbath afternoon from all 12 of our locations. Praise the Lord! 
Jeremy Arnall, pastor of the Greeneville Church, explains what happened with the baptisms that morning. "As we approached the end of our evangelistic campaign at the Cajamarca Central church, the pastor and I, along with my translator, went visiting with some of the interests. Several appeals were made throughout the week with a few coming forward each night so that on Sabbath morning before the first service, we were anticipating seven baptisms. As we finished first service, we had two baptisms and then had Sabbath school. As I finished preaching the message at second service, I began an appeal for individuals to come forward for baptism. A few came forward, and then I announced I needed to go get dressed for the baptism. We had planned five to be baptized at second service. I quickly got ready as the pastor stepped in for me and continued the appeal from the front. Finally, due to the length of his appeal, I came around outside and looked into the window to see what was happening in the sanctuary. I was so inspired to see several more who had come forward. We ended up baptizing 12 at second service, and then, as I was getting dried off and ready to go, I was told one more had come forward for baptism. Most of the congregation was now gone, but I quickly put the pastors waders back on. The few remaining members gathered about as we baptized the fifteenth precious soul that morning. I was inspired by the enthusiasm and energy that the Peruvian people bring to evangelism and their work at building the kingdom of God."
What an experience! What a blessing! I will never forget my first mission trip, the team, the pastors, the translators, the hotel staff, the sweet smiles on the kids, and the members from Sabogal Central B church. With God's help, our mission trip was successful, one step at a time. 
Some of the group waits in security at the airport.
Dr. Elver, a local dentist, joined the team for the mission trip.
Maria and a child pose with a sticker from Mi Lugar Con Jesús (My Place With Jesus), It Is Written's children's ministry.
Four of the Spanish translators, students from Peruvian Union University.
Left to right: Pediatrician Dr. Zuri, Esther, her daughter Nicole, and Hermila pose for a photo at one of the clinics.
Tina, left, and Suranny, right, pray together at a clinic.
Nicole takes a patient's blood pressure.
Dr. Mark with a patient and her daughter.
Women wait in line to be seen at the clinic.
Emilyn, left, a professor at Peruvian Union University, volunteered to be a translator.
Some of the medical clinic volunteers.
Anne waits at the "pharmacy."
A long line forms as people wait for the pharmacy.
The whole group together at the prison.
Dr. Joseph and baptismal candidates.