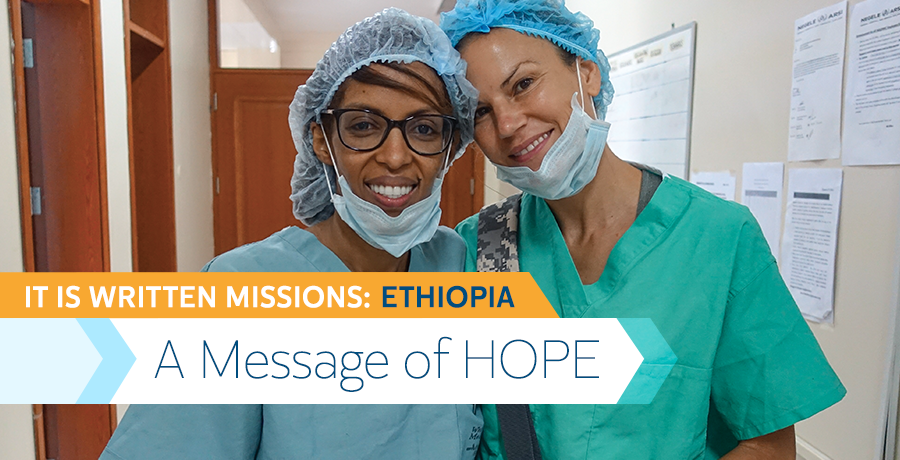 It Is Written's mission trip to Ethiopia is happening right now in the Negele Arsi area. We have 28 volunteers present with three more expected this weekend. The volunteers are split into two teams. One team works at the general hospital in Negele Arsi and the other conducts Bible presentations every evening at six different sites with hundreds of people in attendance. 
This amazing mission trip is the brainchild of Dr. Gohalem Felema, a pediatric cardiac anesthesiologist. Even though Dr. Felema practices in Jacksonville, Florida, she originally hails from Ethiopia and thus has a big burden for her people. A few years ago she approached It Is Written about doing a mission trip, but things didn't quite line up. She didn't give up until finally here we are in 2019. 
Ethiopia is a colorful country with breathtaking scenery. However, the most striking aspect of Ethiopia is the people. They are warm and kind but also very poor. I mean very poor. They survive through subsistence farming and commonly get around in carts pulled by donkeys or horses. The roads are a cacophony of pedestrians, trucks, three-wheeled vehicles called bajaj, buses, horse/donkey-drawn carts, and animals of all sizes that wander on the road with not a care in the world. Our driver has to slalom around all of that to get to our destination. Quite an adventure.
The needs of this country are great, especially health-wise and spiritually. Thus, our trip is facilitating something people desperately need. Under the careful care of Dr. Felema, doctors, nurse practitioners, nurses, physical therapists, health educators, and support staff are busy working at the hospital. Two of our doctors have already done several interesting surgeries. Meanwhile, eight of our other volunteers open God's word every night and preach the everlasting gospel. People walk to the meetings and are blessed to be given a message of hope. Many of these people are planning to be baptized.
It's the rainy season right now in Ethiopia. Rain is something this drought-prone country desperately needs. As you can imagine, however, rain can negatively impact the attendance at our nightly meetings. So, we've been praying as a group for rain except during our meeting times. And that's exactly what's been happening: Rain except during our evening meetings. As a matter of fact, at one of our outdoor meetings the rain did not start until the preacher had said "amen."
I should also mention that as part of our mission project in Ethiopia, Dr. Jacob Prabhakar, the Eyes for India ophthalmologist, spent a week here with his team earlier this month. He did 1,028 cataract surgeries in a span of five days. One of those surgeries was particularly moving. Dr. Jacob operated on a nine-year-old girl who was born with congenital cataracts and had never seen her parents. Dr. Jacob described with emotion the moment she saw her parents for the first time. Powerful.
Please keep the It Is Written team in your prayers. The final day of the mission trip is July 20. We have another week to go. May God use us in a powerful way to draw people to Him.
Click to read the second update from the Ethiopia mission trip.
Click to read the third and final report from the Ethiopia mission trip.
A dentist works on a patient's mouth.
One of the churches where preaching is taking place.
A little girl pushes a homemade cart.
Children pose for the camera.