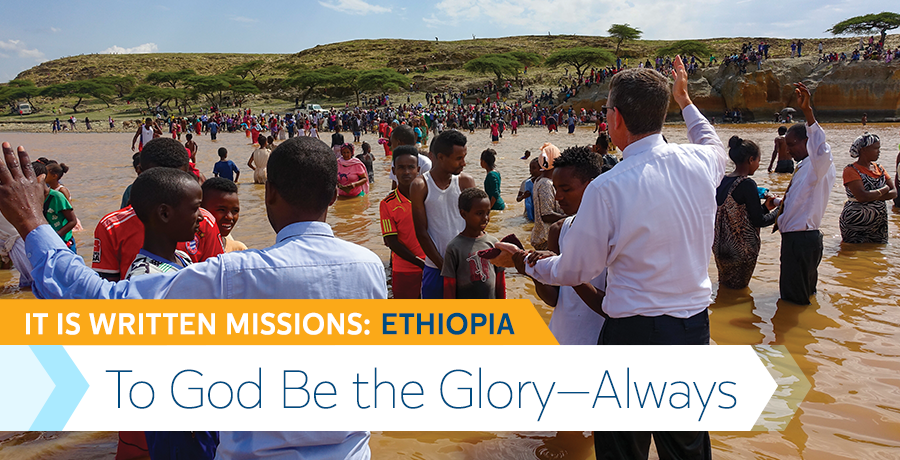 It Is Written's mission trip to Ethiopia is now in the rearview mirror. Our faithful volunteers are making their way home with lots of photos, memories, a greater appreciation for the simple things of life we take for granted at home, and a renewed passion for the Lord and His mission to save humanity. It was indeed a wonderful and life-changing journey.
The grand finale of our two-week mission trip took place this past Saturday. That's when we had an amazing worship service with well over 2,000 people in attendance. Wow! One of my fellow pastors, who had learned quite a bit of the language (Oromo), decided to be my translator for the introduction (we had scripted what I was going to say ahead of time). You should have seen the people smiling and laughing in appreciation. At the end of my sermon I made an altar call. At first very few moved and then the congregation spontaneously started singing. A God-moment, because that's when people started streaming down. Just amazing. 
As soon as the worship service was completed, the It Is Written team was whisked away to the shores of Lake Langano where hundreds of people had gathered to be baptized. On this day, this picturesque lake surrounded by rolling hills became a giant baptistery. Our pastors joined the local pastors to baptize 440 precious souls. The age of those baptized ranged from children to a one-hundred-year-old lady–a reminder that it's never too late to make Jesus first in your life. The smiles of all the people coming out of the water said it all. 
When good things are happening, the devil always seems to show up. And he did at one of our nightly preaching sites, the largest preaching site. There was significant political unrest in that city (not caused by our meetings). The military were called in, the internet was shut down in the entire country, and our nightly meetings had to be canceled for safety reasons. Thanks be to God that no one was harmed and our dear pastor was able to get out without problems. However, the very large baptismal service planned for that area had to be postponed. 
On Saturday evening the It Is Written volunteers and the local leaders and pastors had one last meeting together. This was a time to thank our hosts and, above all, praise our Almighty God. During the meeting we gave all the Ethiopian pastors a jacket with the It Is Written logo. This is not something we usually do, but we did in this case for a very particular reason. When I came to Ethiopia in January to plan and organize the mission trip, I quickly realized how poor the people here are. What drove this point home with me was when I saw one of our dear pastors whose only jacket was a hand-me-down with the logo of a cigarette maker. What?! That's when I determined that he and the other pastors needed It Is Written jackets. The ear-to-ear grins of these guys wearing their new jackets was priceless.
To God be the glory for another successful mission trip. By the way, we've got a great line-up of mission trips in 2020. Join us on one of them and experience God in a most powerful way. 
Click to read the first report of the Ethiopia mission trip.
Click to read the second update from the Ethiopia mission trip.
The crowd listens to the sermon being preached.
Ethiopian countryside
A mission pastor baptizes a man in Lake Langano.
A local woman is baptized by a mission pastor.
Young women line up, waiting their turn to be baptized in Lake Langano.
Mission and local pastors get together for a photo before mass baptisms begin.