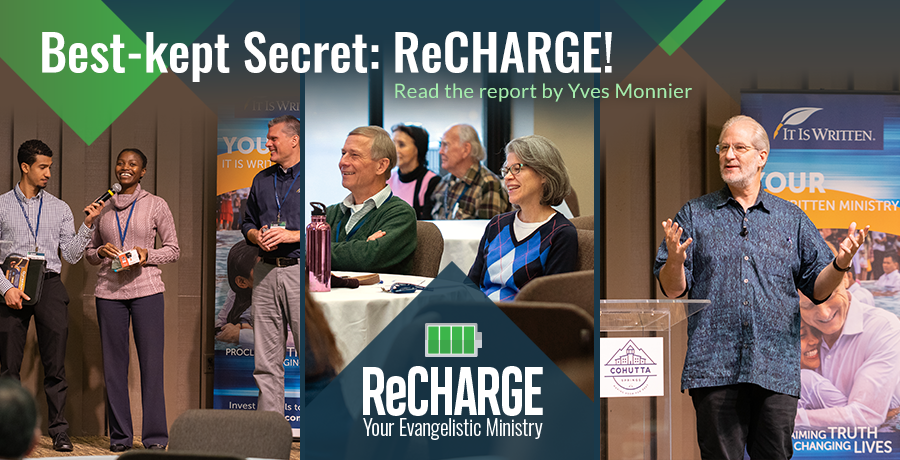 Evangelism is the very front line of Christian warfare. That's where amazing victories are secured but also where bitter defeats are endured because the devil does push back. And all can be at a significant emotional toll for all those involved in soul-winning. That's why in 2018, It Is Written inaugurated ReCharge, an annual evangelism retreat, designed specifically for those in the thick of the battle for lost souls. It is a time to recharge and then to go back out, invigorated to charge on for the Lord.
Our most recent ReCharge took place December 15-17, 2019 and included church leaders, pastors, and members from 16 conferences. At the serene Cohutta Springs Conference Center near Dalton, Georgia, the group was inspired by the timely presentations of Bill McClendon, Alan Parker, and Eric Flickinger, all veteran evangelists, as they focused on church revitalization through evangelism. However, the best part about the time together was the fellowship, a time of sharing and encouragement. 
One of the pastors in attendance shared a little bit about his journey in evangelism. He opened up about the struggles he faced leading his church from complacency to church growth. Everybody felt and related to the raw emotion. What he was going through was exactly what so many others present were going through as well. When he was done, the group paused and prayed for divine intervention. It was a powerful moment. 
The three days went by way too quickly. Everybody departed energized to start a new year, 2020, with God's wind in their sails. The departing comments were encouraging. One attendee said in reference to the experience, "It recharged me with renewed energy to keep going and not give up." Another person shared that "the combination of specific leadership and personal experiences helped me greatly to incorporate the learning into my own situations. I loved sharing some of my story and praying with others." Another person put it like this: "I'm so happy I took the time to come. This must be one of the best-kept training event secrets."
It Is Written is already planning for the next ReCharge retreat at the end of the year, December 13-15. We pray for an even larger group to be present and that ReCharge will no longer be a best-kept secret. Jesus is coming soon and more than ever we need to fulfill the Great Commission entrusted to us. View photos of the event below.