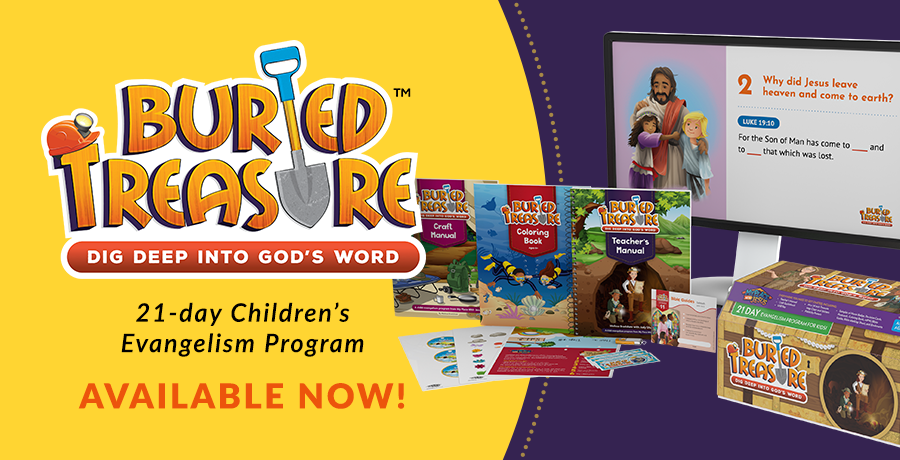 It Is Written is pleased to announce a brand-new children's evangelism resource: Buried Treasure. The comprehensive 21-day program is specially designed to minister to children up to 12 years of age during an evangelistic series, Vacation Bible School, Sabbath school, or similar event. Buried Treasure is produced by My Place With Jesus, It Is Written's ministry for children. For more information about Buried Treasure, visit itiswritten.shop/bt or call 888-664-5573.
Based on the My Place With Jesus Bible Guides, Buried Treasure features Bible studies, original Scripture songs, crafts, games, and lessons all designed to teach children the same Bible truths being shared with adults in an evangelistic series. Each program is customizable, runs for 90 minutes, and includes additional resources and suggestions for overtime. Buried Treasure is designed for ages 7-12 and includes preschool worksheets for younger children to complete during the main Bible study time.
"John and I have worked in evangelism together for more than 25 years and understand the importance of having a children's program at evangelistic meetings," said Melissa Bradshaw, My Place With Jesus director and wife of It Is Written president John Bradshaw. "Parents are likely not going to attend if there is nothing offered to their children. Buried Treasure is an opportunity for children to learn the same life-changing principles of the Bible the adults are learning in an interactive, exciting, and lasting way. And we know that churches are always looking for a good, Bible-based Vacation Bible School program, which Buried Treasure provides."
Melissa knows firsthand the importance of child evangelism. As a young girl, she and her sisters attended a children's program while her mother attended an evangelistic series. Melissa loved what she learned, and she encouraged her father to follow the teachings of the Bible too. He was baptized as a result.
"Young people are evangelists," said John Bradshaw. "And it's imperative we give young people effective tools so they can learn and share their faith. Buried Treasure does that."
Buried Treasure has received only positive feedback from those who have field-tested it, said Melissa. "During the pilot of Buried Treasure, one busy family almost stopped attending the evangelistic series, but because the children didn't want to miss a single night of Buried Treasure, the parents decided to continue attending the adult meetings. As a result, the whole family made a decision to follow Jesus and were baptized!" Another reviewer in Idaho called it "wonderful, easy to use, and thoughtfully laid out."
Buried Treasure provides everything needed to conduct a fun, effective, Christ-centered program that will encourage children to make life-long decisions for Jesus. Buried Treasure may be ordered online at itiswritten.shop/bt or by calling 888-664-5573.