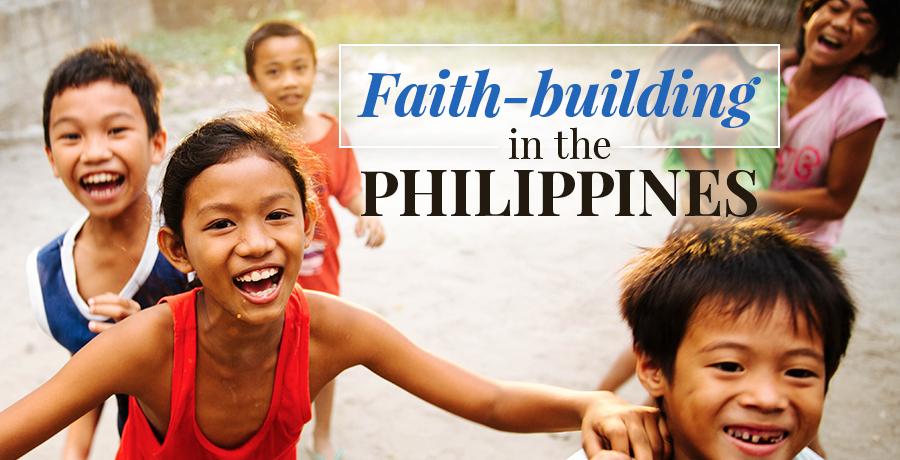 Just a few weeks ago, Pastor John Bradshaw, It Is Written staff, and 74 volunteers converged in the Philippines to conduct 57 two-week Bible presentation series as part of a big Philippines for Christ evangelism project. As a result, 3,147 people have been baptized and more are preparing to make that commitment. 
The It Is Written evangelism team was composed of pastors, retirees, students, teachers, health professionals, business people, and entrepreneurs with one thing in common: a passion to share Jesus with others. The meetings conducted were held in churches of all sizes, basketball courts, rooftops, rented halls, outdoor spaces, warehouses, streets, and alleys. The evangelists went to the streets, where the people live. And many people responded, especially smiling young people. Not only did the people attend, but they also responded positively to the nightly presentations. Countless made decisions to make Jesus the Lord of their lives.
Benilda, unsatisfied with the church of her parents, went on a quest to find the right place for her to worship and walk with Jesus. Over the years her search was fruitless. One day, recently, when riding public transportation she overheard a conversation between two people. They were talking about an exciting series of Bible meetings being held nearby. Her curiosity got the best of her, and so she interrupted the two ladies and asked if it would be okay for her to attend the meetings. That night, Benilda was present as Dale, one of the volunteers, preached his heart out. When he made the appeal for people to accept Jesus as Lord and Savior, Benilda responded. She attended all the following meetings and declared that she had found what she was looking for all these years. 
Pearl, another of our preachers, noticed that one of the people attending her meetings was a man who always wore a mask. Many people in Manila wear masks outdoors because of the pollution, but he kept his on when he came indoors. Pearl was curious, so after a meeting, she caught up with the man. He told her his name was Danilo and that he was very thankful for the messages she was sharing. Pearl asked him why he wore the mask indoors. With sadness in his eyes, he explained that he hides his face because of ugly boils. Pearl immediately asked if she could pray for him. He said yes. And so she prayed for God to heal Danilo of his boils. A few nights later Pearl noticed that Danilo was missing. Actually, he wasn't. She hadn't recognized him because he had removed his mask. His face had no boils, just a big bright smile. Danilo, like many others, is preparing himself for baptism.
Tina, a volunteer preacher from Tennessee, was on her way to her nightly meeting when she was invited to a funeral service being held near her preaching site. When she arrived, she was told that the family wanted her to say a few words. With fear and trepidation, she stood before the crowd—but that's when the Holy Spirit took over. With much compassion in her heart, Tina talked about the love of Jesus and how He had conquered death at the cross. It was an impromptu message, but it touched the hearts of many unbelievers.
God works in so many amazing ways to reach people. He empowers humble vessels to do it because, as Paul put it, "When I am weak, then I am strong" 2 Corinthians 12:11. Our It Is Written team has left the Philippines but the Philippines is still very much in our hearts. We went to be a blessing to others but in reality, we are the ones most blessed. Volunteers made some encouraging comments as they parted ways:
I have hope and renewed energy to work for souls back home and to encourage all, both young and old, to follow Jesus all the way. -Dean
All I can say is, "Praise the Lord!"  I have to say that this was the most overpowering move of the Holy Spirit that I have ever experienced in my life. –Ed
This is one of the most blessed trips I have ever taken. –Rosemary
It Is Written is gearing up for its next evangelism mission trip to South Africa, October 4-21, 2018. We'd love for you to be a part of that very special experience. Please contact us at [email protected] to reserve your spot.