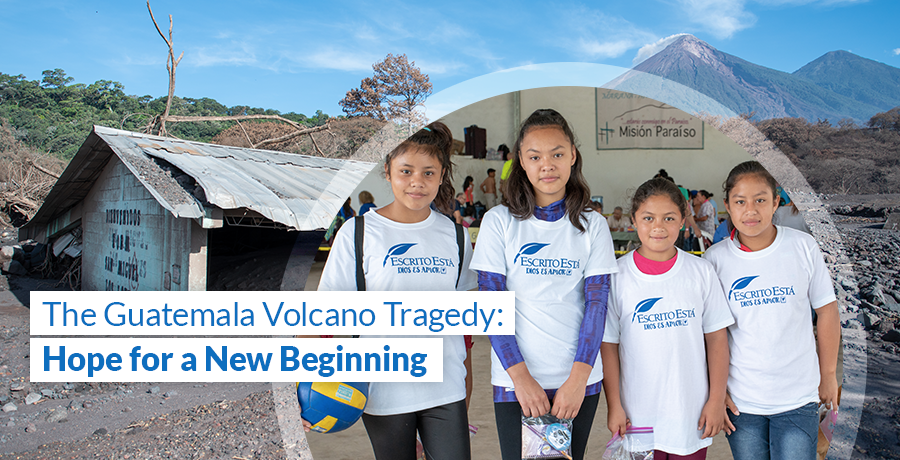 It was Sunday afternoon when I was looking through the news and learned that a volcano had erupted in Guatemala. I immediately contacted one of my close friends from Guatemala to ask about the seriousness of the catastrophe, and he told me: "Carolina, it's not a big deal, Volcán de Fuego is always erupting." I was very concerned because in the next two weeks my local church would visit Guatemala on a mission trip that had been planned for over a year.
Next, I contacted the mission trip coordinator, Danny, to see if anything had changed. He said there were no changes, except that we needed to be there more than ever to help as much as we could. The following Monday I requested for prayer during worship at It Is Written. That's when the general manager, Jesse Johnson, approached me to offer the ministry's support during this mission trip. What a blessing!
The truth is, this wasn't just another small eruption. The devastation went much further than we ever imagined. This became visible when we reached the community of San Miguel los Lotes to film a program with It Is Written Speaker/Director John Bradshaw and Escrito Está Speaker/Director Robert Costa. The town was completely buried. It was heartbreaking to see survivors returning to their streets, only to find volcanic material covering their houses and relatives. One lady came to us crying: "You're standing on what used to be my home. My mother didn't escape. She's buried under your feet."
I asked another man who he had lost during this eruption. He said, "I only want to mention my mother and my wife. If I count my uncles, cousins, and other relatives, the number will be more than forty people. But I don't want to even think about it, the pain is overwhelming."
As we walked through the once-populated town, smoke still ascended from the ground. The smell of sulfur and death were all around us. I couldn't stop wondering why people didn't leave their homes and escape before the eruption. Some said that their loved ones didn't receive warning in time. Others said that people didn't take the warnings seriously because the crater was facing a different direction and lava had never descended their direction. People had become so used to living next to the danger of an active volcano, that they didn't take the warning seriously. They believed, as they had done in the past, that locking themselves inside their homes would be enough to keep them from harm. Unfortunately, it wasn't enough. Today, the total number of deaths is still under debate. The national government counts are close to 300, but locals argue that the death toll is in the thousands. Unfortunately, finding all the bodies is almost impossible, so we will never really know.  
According to the communications coordinator for CONRED, the disaster relief agency in Guatemala, warning people to evacuate on time is challenging. Communication law in Guatemala does not allow for the government to send free text messages to alert people whenever they are in danger. Because of its location, Guatemala is prone to multiple natural disasters and millions of people are vulnerable to earthquakes, floods, hurricanes, and volcanic eruptions. The best way to prevent loss of life like this is to keep people from living in dangerous areas and to train them to be aware of imminent danger.
Today, the road to recovery for this nation and the thousands affected by Volcán de Fuego is long and difficult. Hundreds of people are currently amassed in temporary shelters and will soon be moved to transitional homes. The government will have to implement plans to establish people in a new location. Nobody really knows what will happen next. People have little hope for the future and no trust in their government. Right now is when they most need to hear about the second coming of Jesus and the mansions He has prepared for us – a real future and hope. As vulnerable as they are, the people of Guatemala have open hearts and are seeking God for answers to life's deepest questions.
During our visit to Guatemala, we tried to share Christ's love and glimpses of hope in the midst of unbearable pain. Thanks to It Is Written's support, we were able to see 4,000 patients in our health clinics. We gave medication and over 750 pairs of glasses. We distributed 100, 55-gallon barrels to hold potable water. Twelve full-size family tents were delivered to people who lost their homes and were living in the streets. We handed out 600 t-shirts with the Escrito Está logo and the message "God Is Love" reminding the people who had just lost everything that they were loved by a merciful God. Finally, we gave out year-long scholarships to 68 local children displaced by the volcano so they could continue their education at the local church school.
I'm so grateful that I was able to be a part of this trip. I'm grateful to It Is Written for their support and to our donors for so quickly responding to the need in Guatemala. This is the love of Jesus in action. Thank you for your support! As Escrito Está approaches its 25th anniversary, we plan to return to Guatemala in 2019 to share more of Jesus' love and hope of a new beginning.