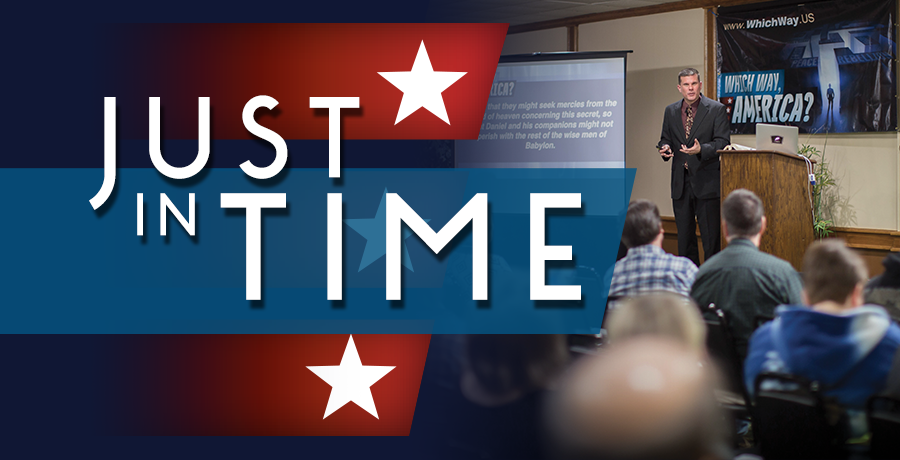 For decades, It Is Written has been sharing the everlasting gospel with the world. Lives continue to be changed by the power of the Holy Spirit.
In early 2017, It Is Written Associate Speaker Eric Flickinger presented a series of meetings in Dickinson, North Dakota. This account he shared reminds me why It Is Written shares Jesus in the United States and around the world.
As a young man, Ron was 'rough around the edges.' His friends referred to him as "Party Boy," and although he had no time for God in his life, he went on to own a number of successful businesses. When Ron lost much of his wealth during an economic downturn he found faith in Jesus. He decided he would run what remained of his businesses in a way that represented his Christian principles.
Ron began to support a number of worthy causes in his community and sponsored the monthly "friendship dinners" held at the very church where Eric held his evangelistic series. He and his wife Bette began to attend the church, and when Eric's "Which Way, America?" series began they didn't miss a night.
At the conclusion of the meetings, they wrestled with the question of baptism and church membership. After much prayer and discussion, Pastor Flickinger said to them both, "This decision is up to you. But if you'd like to be baptized, be here tomorrow with a towel and a change of clothes." That night, Eric prayed for Ron and Bette, and the next morning he was thrilled to see them arrive at the church, prepared for baptism.
After their baptism, Ron and Bette invested their time and resources in helping others study the Bible and grow in their faith in God. The disciple had become the disciple maker. They continued to sponsor the monthly friendship dinners and did all they could to help others know the Savior. They loved God, and they loved His people and His church.
Just a few weeks ago, I received a phone call. Ron was dead.
As sad as I was, and although my heart ached for Bette, I couldn't help but praise God for the way He had worked in Ron's life. Once a wild young man who lived apart from God, he was led to make a decision for Christ in an It Is Written evangelistic series—just months before he passed away.
The It Is Written series had taken place at precisely the right time for Ron and Bette. Which is why we do what we do. Our television and other media productions, our resources, our evangelistic outreach, evangelism training, and so much more… It's all to reach the Rons of this world.
And there are more Rons waiting to be reached. They're everywhere. Ron could have been your father, or spouse, or grandfather, or neighbor, or friend. You see a Ron or a Bette at work, or when you do your grocery shopping. And they need to be reached with the best news of all.
Imagine if that series had not been held. Imagine if Pastor Flickinger had not appealed to their hearts!
Our 2018 evangelism calendar is full. We have more requests to hold meetings than we can meet. This next year will be the busiest year for media production in It Is Written's history. We'll produce more effective soul-winning resources. And why? Because of Ron. And because of Bette.
There are more Rons to be reached. To help It Is Written reach more people, just in time, click here.