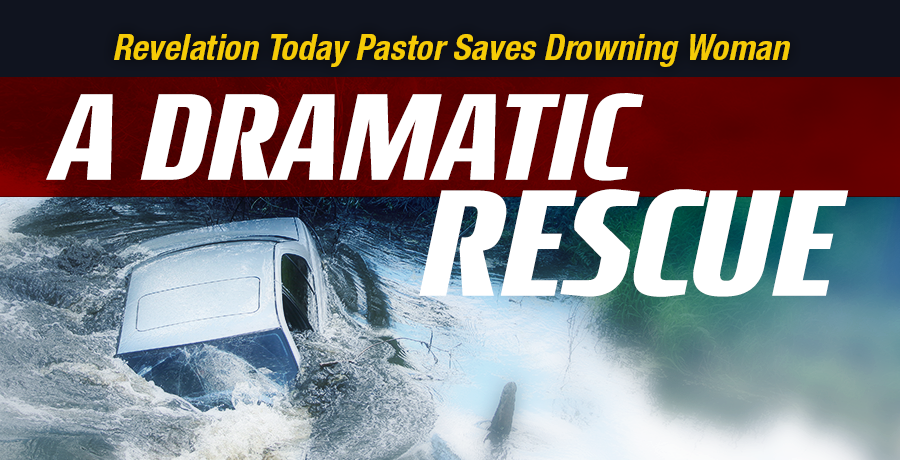 One of the pastors taking part in Revelation Today Boston found himself in the center of a dramatic rescue last week.
Just hours before Friday night's Revelation Today Boston presentation, Pastor Cesar Perozo, who pastors two churches in his hometown of Stoneham, Massachusetts, was in a public park when he witnessed a car drive off a street and into Spy Pond, a few miles away in Arlington.
"I had to do something to save whoever it was in that car," Cesar told me.  He dived into the 103-acre lake and swam towards the car, which was drifting further away from the lake shore. 
"For a moment I didn't think I'd be able to get out to her. The car ended up about 50 yards from the shore. The challenge was that I couldn't swim like I normally did because my clothing was dragging me down."
Understandably, the 68-year-old driver was afraid. "She kept telling me that she couldn't swim and wanted to stay in the car. As I opened the only door that wasn't submerged, water rushed into the car.  I kept telling her, 'I've got you, I'll help you.' I knew I only had a few seconds before the car went under. There was no way she was going to survive if I didn't get her out." The water was forty feet deep where Pastor Perozo was attempting the rescue.
Fatigue set in as Pastor Perozo took hold of the lady's hand. "For a moment I didn't think I'd be able to get her out. I was so exhausted. My muscles felt like they were seizing up. Then as I took hold of her she slipped out of my hand."
At that time, two other men arrived to assist with the rescue. "Between the three of us we got her back to the shore. I'm just so glad she's alive. I'm praising the Lord for that."
Cesar told me that when they all were safely back on shore, it was a special feeling to be able to hold the hand that only minutes before had slipped out of his. "Knowing she was safe—that was a great feeling."
The story of the rescue has been covered by newspapers, websites, and television. 
As a pastor and evangelist Cesar Perozo has given his life to doing all he can to save others. Just a few days ago his mission as a rescuer took on a whole new meaning.
And he wouldn't normally have been in the area. "I was there on a friend's recommendation to check out photography locations for the church school. God had me in the right place at the right time."
That evening, the Revelation Today meetings continued in Stoneham and around Boston.
Is there someone God is looking to use you to reach, to make a saving difference in someone's life? Be sure you're ready to offer the gift of life when the opportunity to do so arises.
To view a news report of Pastor Perozo's dramatic rescue, click here.
To watch the Revelation Today presentations from Boston, join us Tuesday, Wednesday, Friday, Saturday and Sunday at 7:30pm Eastern.