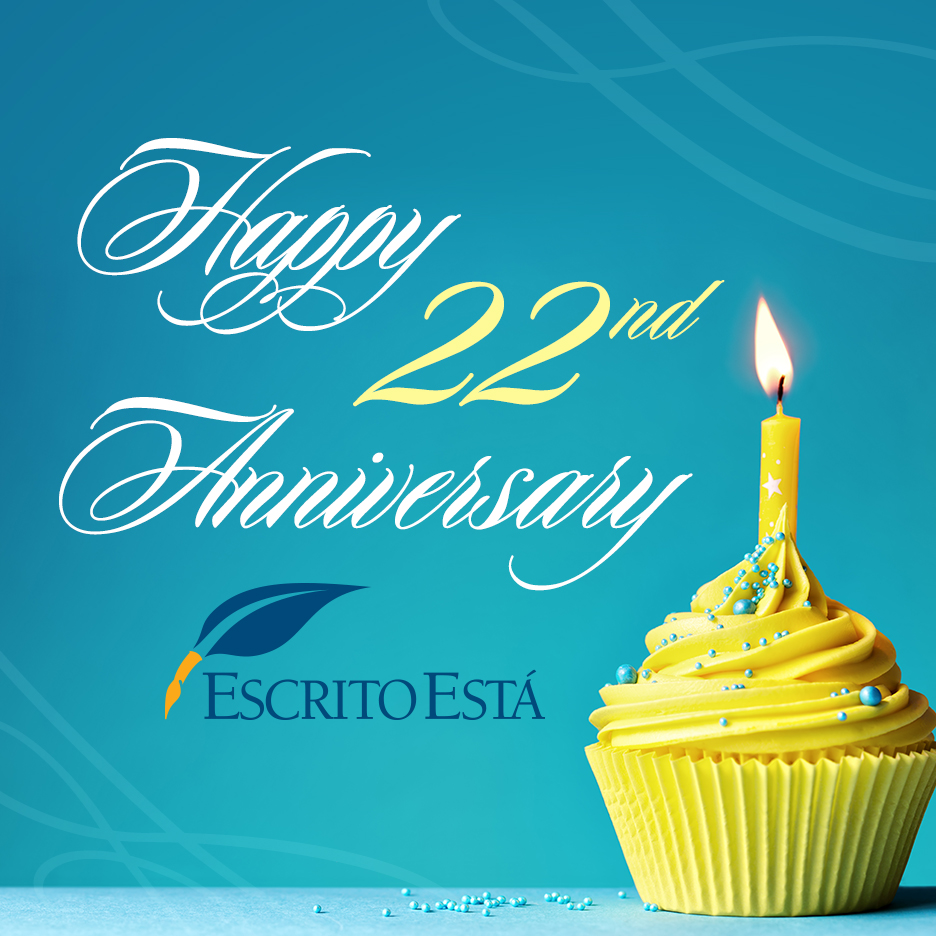 Twenty-two years ago today It Is Written had the vision to expand the ministry to a new language: Spanish. Today, it is impossible to count the number of people from all over the world who have been blessed by the ministry of Escrito Está. Currently Pastor Robert Costa serves as Escrito Está speaker/director and Carolina Bonilla is his administrative assistant. Together with the It Is Written team, Escrito Está has grown into a strong part of the ministry, reaching thousands each year with the good news of Jesus.
In honor of this special 22nd anniversary, here are a few stories from the ministry of Escrito Está:
In 2007 Pastor Robert Costa was holding a series of meetings in Perú. The program was airing live on Nuevo Tiempo and his preaching time was almost up, but Pastor Costa felt impressed to continue making the altar call, so he went on, and on, and on… A few weeks later, he received an e-mail from a woman saying: "Pastor Costa, thank you for insisting on your altar call. After much struggle, my mother finally stood up in the last call. And it really was her last call. A few days later her body was found buried among the rubble caused by the earthquake that shook Perú. That had been her last chance and now I have faith that I will see her again when Christ returns."
Or the case of the alcoholic man from Canada. His wife had prayed and prayed for healing for her husband who continuously lost his jobs due to his drunken state. One day the man, completely drunk, turned on the TV and Escrito Está appeared. By the end of the program, he decided to call the number on the screen. A group of young people answered and offered to go pick him up right then and there and bring him to church. Drunk and all, he attended Pastor Costa's meetings and even fell asleep during the service. But the prayer and love by those young men who answered the phone call helped him to accept Christ and today he is a faithful Christian, no longer tied to his addiction.
One women is serving a lifetime sentence for decapitating her mother and attempting to kill her husband. She recently wrote in to Escrito Está looking for Bible studies. She has been in contact with the team and they are eager to see how the Lord will continue to lead in her life.
Pastor Costa and Escrito Está have a global reach and touch many hearts. They receive feedback constantly from people who want to express their gratitude or ask questions.
From Argentina:
"Pastor Robert Costa your messages are a great blessing to my life… Thank you for the Bible studies you've made available to all through your website. My blessings to you and to those accompanying you closely."
From Uruguay:
"I have been shocked after listening to Pastor Robert Costa's preaching. I've known the gospel for several years and for the first time I saw someone speak with such clarity about the Scriptures that I have no doubt that this message is from God. I would like to receive Bible study material. Thank you and God bless you."
From Uruguay:
"I am one of perhaps thousands who have been baptized during an evangelistic meeting you've held… Your message gave me the necessary little push I needed. I write only to give you a warm greeting. I'm sure that our dear Lord Jesus will fill you with blessings and will enable you to continue with this beautiful ministry for which we are very proud, all your brothers and sisters and compatriots. Thank you for your messages."
Countless are the number of people who have been reached through the efforts of It Is Written and Escrito Está and we're very grateful to God for one more year of life, hoping soon to see the Lord come.