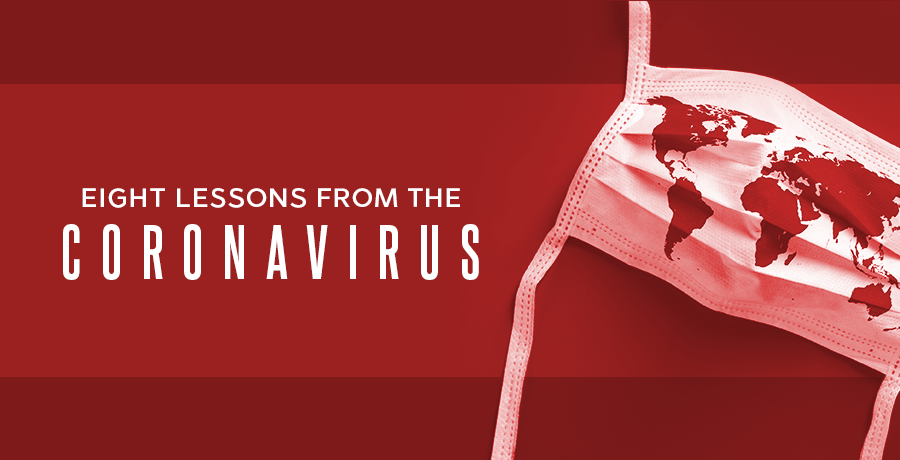 There's much we can learn from the coronavirus crisis. Let's look at a few coronavirus lessons, in no order of importance.
1. People can make you sick. I heard a sermon more than 25 years ago, preached by a man who sadly is now no longer a believer. He said that if you grow a garden, you wouldn't be wise to locate it right at your property line if your neighbor's property was filled with weeds. Because even if you do everything right, seeds from your neighbor's property are going to blow into your garden and fill it with weeds. Proximity is a serious consideration. The same is true with the coronavirus, which affects people via other people. We need to be careful about what we catch from other people.
That's especially true in a spiritual sense. It's vital that we're careful about what we catch from other people. Associations matter because attitudes rub off. If you're in school and the popular kids aren't serious about God, having them in your inner circle could be hazardous to your spiritual health. If your work associates or friends are corrosive to your faith, be exceedingly careful about how you let that association influence you. People have influence. We're all influencers. Be careful of the influence of others.
2. Be careful how you spray. We've been reminded again and again to cough or sneeze into our elbows, so as not to affect or endanger others. Too many people "spray" their anger, bad language, and hateful attitudes on other people, who in turn are adversely affected by that. Your racist, sexist, or demeaning "joke" might be funny to you, but it's going to harm others. Venting your anger might be acceptable to you, but it "sprays" on others. When you see a skunk, your first reaction might be, "I hope that thing doesn't spray near me!" Some people evoke the same reaction as skunks. "I hope he doesn't blow up." "I hope she doesn't start criticizing other people." We have no right to "spray" others with our dysfunction. If you can't muster up self control, if you can't surrender your anger and frustration to God, it doesn't make it okay for you to spray it upon others. It's unfair, and it brings others down.
Lesson 3 from the coronavirus. It's important to separate fact from fiction. "10 percent of the world's population is going to die." "This will last 18 months!" The truth is, we don't yet have all the answers. I've seen numerous emails being forwarded containing miracle cures, the "truth" about the coronavirus, and remedies that are guaranteed to keep you safe. It's almost certain that they won't. The internet is like the Sears-Roebuck catalogues of yesteryear. You can find almost whatever you're looking for. The same is apparently true of the Bible, because there are people who can appeal to the Bible to support just about anything at all. It's important–from a Biblical perspective–to separate fact from fiction. Don't fall for every last thing someone tells you about God, or about the Bible. The devil has no shortage of people wanting to lead you astray, divert your attention, and weaken your faith. The Bible is the truth. What someone says about the Bible is not necessarily the truth.
4. It's good to think about the common good. We're in this together. Your actions have a reaction. That's why EVERYONE is being asked to act responsibly, to consider others. It might be that the coronavirus is going to bounce right off you. In fact, statistically speaking, there's a very good chance that you're going to be barely affected, physically. But even if you're okay, you don't want to be a carrier, a transmitter, of this illness. Spiritually speaking, you can be a negative force or a positive force in this world. You get to choose what you're going to be. Consider your influence and use it for the good of others. And notice: at no time have you heard it said that only people who are specially qualified can pass on illness. You just have to be alive, and you can be a carrier. It's the same with faith. You don't have to be special, just special to God, and you can act for the good of everyone.
Lesson 5 from the coronavirus. Do the simple things to protect yourself. Wash your hands, avoid the sick, eat well, exercise, get rest. These are simple things. In faith, it's the same. Read your Bible. Talk to God. Let your light shine. There's nothing hard about these things. Spiritually, you want to do the simple things to protect yourself. If you're not reading your Bible, then you're not spiritually strong, and you shouldn't fool yourself into thinking you are. Prayer and Bible reading are habit-forming. Do them, and you'll want to do them more.
6. Things change fast. Two months ago, precious few people were talking about this. Now it's the topic of almost every conversation, and it is dominating the news. When 2020 began, we had no idea that less than three months later the economy would be shutting down, cities would be under lockdown, people would have lost jobs, schools would be shut… Someone once said that the final movements would be rapid ones. That statement couldn't be any more correct.
7. A final lesson from the coronavirus (and there are certainly many more.) It's always right to do the right things. It's always been right to look after your health, to cough into your sleeve, to stay away from work when you're sick or contagious, to get exercise, to get adequate rest, and to think about the wellbeing of others. It's best to incorporate these principles into your daily life anyway. It's wise to simply make good practices part of everyday life. The same is true in a relationship with God. You don't want to wait until tragedy strikes to discover prayer. You don't want to be in the midst of a crisis to turn to the Bible. The wise things are always wise. Right is always right. God's principles for successful living are simply the best things to do.
8. A final final lesson! Have faith in God. God has not given us the spirit of fear, according to 2 Timothy 1:7. God truly exists (Hebrews 11:6), He is love (1 John 4:8), He loves you (Jeremiah 31:3), Jesus is coming back to this world (John 14:3), and eternity awaits (1 Thessalonians 4:17). This is a great time for faith in a great God. The best is yet to come!
P.S. Don't miss my conversation with Dr. Roger Seheult, a pulmonology, critical care, and sleep specialist. Dr. Seheult shares some vital insights into the coronavirus crisis. Be sure to watch and share with others. You can click here to watch it.