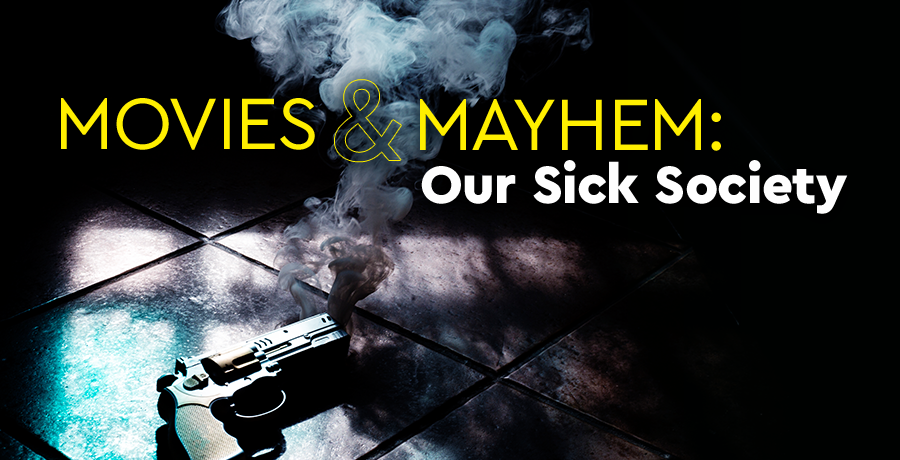 Surely this enables us to see the madness of it all.
Hollywood has announced that in the wake of two recent mass shootings, a certain new movie will not be released as planned. Why? Because "now is not the right time to release this film," according to a statement from the studio that created the film.
But the fact is, there was never a right time to release this film. Nor will there ever be.
The movie is referred to as a "satirical social thriller." What it actually is is the story of a group of people on one side of the political divide who capture and hunt to kill a group of people on the other side of said divide. But the plot is irrelevant. It's a movie filled with graphic violence and brutal killing (luxuriously shot and featuring an Academy Award-winning cast).
The politics of it, while disturbing, are not the greatest concern. What is of tremendous concern is that we live in a society where portrayals of brutality and violence are considered, in the words of Universal Studios, "bold and visionary." Of course this is nothing new. But the hypocrisy of pulling a movie because its putrid content comes a little close to home in the wake of a mass killing demonstrates just how far we've wandered as a race. If the movie isn't good now, it was never any good.
Can't we just acknowledge that depicting this type of violence, selling tickets to see it, and then making heroes of its creators doesn't speak well of an enlightened society?¹ We surely are way beyond the time for studies and research papers and debate about whether or not brutality in a movie impacts the way people live their lives. One of the two recent mass murderers was into some truly horrific stuff. One of his friends claimed to see their deranged pursuit as "a joke" and was shocked that the killer acted out the very stuff their group fantasized about. Why would anyone be surprised that a man acted out his fantasies? Of course, not everyone in his clique descended to such depths. But the fact that most people who consume mental poison don't become mass shooters doesn't make the poison any less poisonous.
Do laws need to be looked at to address the runaway crime plaguing society? Laws should always be looked at. Is the sickness troubling the country the fault of politicians? To say "yes" would be to choose the lazy answer, but politicians have to do their job. There's no simple solution. But if a little common sense was employed, things would be radically different. The Bible says that we become changed into what we focus on (see 2 Corinthians 3:18.) I learned to love durian² because I persisted with it. Feed a people group a constant diet of violence and hate and you get, well, 2019.
How can we be surprised when society starts to mirror the utter madness being depicted in pop culture? It might be said that pop culture merely mirrors society. But the movie recently shelved by Universal Pictures mirrors nothing other than the twisted imagination of its creators.
It isn't free speech or creativity or bold vision that results in movies like this being produced. It's madness. And while we can't "stop" violent crime from happening, there are some things we can stop. We can stop leaving common sense out of the equation and start saying, "This just isn't good. This isn't appropriate. This isn't necessary. This shouldn't be produced." This would be a good place to start. Society wants to have its cake and eat it too. Violence is bad! Killing people is bad! But violence and killing for entertainment? That's considered good. Even very good.
The challenge is, of course, hearts don't change themselves. Only God can change a heart, and He doesn't change the hearts of those who don't want to experience change. We're late in the history of the earth now, evidenced by an advanced society thinking it acceptable to produce truly horrible content and make it available for mass consumption.
The real problem isn't guns or shooters or laws or politicians. The problem now is society. Sin. We're sick. Very sick. Our systemic problem runs deeper than we might even realize. In Isaiah 1:5 God spoke of a people and said, "The whole head is sick, and the whole heart faints." Sin has led us to the place where we decry violence, wring our hands and shed tears and demand that the violence must stop, while at precisely the same time we celebrate those who produce the sickest stuff and spoon-feed it to a sin-hungry world. On one hand we demand society changes, while on the other we race to movie theaters to buy tickets to the latest splatter movie. And that makes sense… how?
If a movie shouldn't be released because of mass shootings, it should never be released. Or even produced. As long as we're so blind to our own illness, society can never be well. And as long as people choose violence and brutality as acceptable forms of entertainment, we'll continue to get what we pay for.
---
¹ Actually, we know the answer to that question: "No."
² So good…