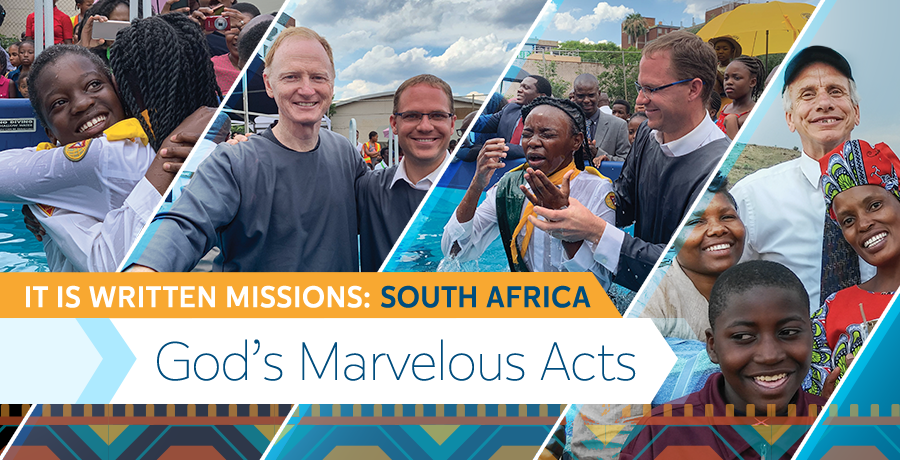 Here are six short stories from our mission trip to Pretoria, South Africa.
Eavesdropping Custodian
Pastor Justin Lyons' nightly presentations were heard by a person he was not even aware was present: the custodian of the church where the series of meetings were held. Outside in the shadows, the custodian sat, listened, and learned. His heart was so moved that on the night when Pastor Lyons invited people who wanted to be baptized to come forward, he stepped into the church and came forward. I guess some eavesdropping is actually very good.
Found Purse
One of our volunteers took a taxi to run some errands. Unbeknownst to her, her wallet fell out of her purse while riding the taxi back to the hotel. This is a story that had the potential to have a very costly and stressful ending. However, God preserved the wallet from being found by the wrong person. The next person to ride that very same taxi was none other than another member of our evangelism team. God is good.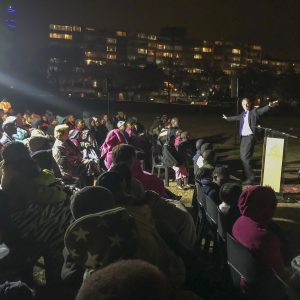 Balcony Audience
Pastor John Bradshaw's meetings were held outdoors in a park surrounded by apartment buildings. Hundreds of people from the community attended every night. The best thing, though, was seeing people with their windows open or standing on their balconies listening to Pastor Bradshaw preach. Can't beat a location like that. 
Christ's Method
A wonderful Christian writer wrote: "Christ's method alone will give true success in reaching the people. The Savior mingled with men as one who desired their good. He showed His sympathy for them, ministered to their needs, and won their confidence. Then He bade them, 'Follow Me.'" Two of our volunteers did just that. First, they went to grocery store and bought bags full of groceries, and then began to deliver food to poorest of the poor in a squatter community. The response of the people was: "No one has ever done that for us," followed by some joyful spontaneous singing and dancing.
Powerful Prayer
Our video projectors have American plugs. In order to use them in South Africa, we had to purchase an adapter. When Donna, one of our volunteer preachers, plugged in her video projector, the adapter started to spew sparks. She immediately pulled it out from the outlet and wiggled it to make sure that it was properly connected. Then she plugged it again but it did the same. Without the adapter, no sermon slides. Disaster. So, Donna invited everyone present to pray with her. According to a witness, it was one of the most powerful prayers he ever heard. As soon as she said "Amen," she plugged the adapter in the outlet again and NO problem. The presentation went forward without any more glitches. However, once the presentation was done, the adapter quit working again. Don't tell me God doesn't take care of little things too.
Get Help! 
Our medical team has seen hundreds of patients. Though limited in what they are allowed to do, they are still doing an amazing job. Case and point is the young man who came to our makeshift clinic in a poor section of Pretoria. After listening to the young man, the doctor did a quick exam and discovered that his cervical, axillary, and inguinal lymph nodes were swollen, firm, and non-movable. A strong sign that this dear man had cancer. The doctor passionately recommended that he get help at the hospital immediately. Before letting him leave, the doctor prayed with the man, connecting him to the Great Physician.