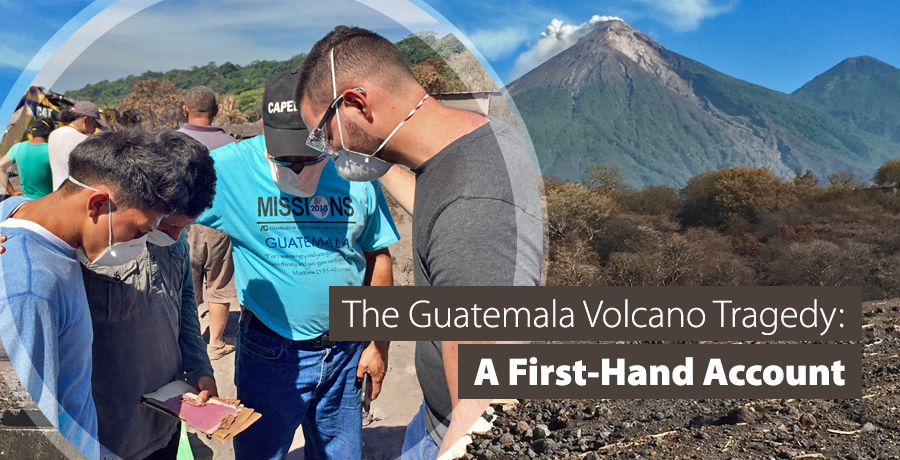 We stood on what was essentially a glacier of sand, ash, and rock. It had snaked its way relentlessly down from the 12,500 feet summit of Volcan de Fuego, the Volcano of Fire, in southern Guatemala. Fuego has been erupting more or less constantly — and harmlessly — for the better part of the last twenty years. Apart from a false alarm in 2012 when 33,000 people evacuated, Fuego hasn't done much more in recent times than beat its chest and belch smoke into the air.
As we stood in its shadow, the giant was still emitting smoke, but gently rather than a roar. But three weeks ago, before our It Is Written team arrived, Fuego roared. The desolation on which we stood was deceptive. There was no way we could know that we were standing where a town once stood.
The volcanic debris was piled up so high that heavy equipment operators were digging through thirty feet of piled up ash and dust to reach the road and clear it for use. We stood level with what once was the second-floor level of several houses. Virtually all buildings were completely buried. People had been trying since the initial eruption on June 3 to dig out buried family members.
While official figures state that two hundred people are still missing, one man told us he is certain at least 1,500 are still unaccounted for. Another told us that he has lost at least seventy family members in the tragedy. As one person told our team, "In many cases entire families have been killed. They've simply disappeared. There's nobody looking for them, no one to report them as missing."
As we filmed in what was once the village of San Miguel Los Lotes, a family waited for earth-moving equipment to arrive. The bodies of the man's brother and his family are buried in the first-floor area of their home. Only the second story rises up out of the ash and debris. Why did the family not flee? "They couldn't," their relatives told us. "They had a disabled daughter and weren't able to get her out. So they stayed."
In spite of very clear warnings, many others chose to remain when they could have fled. "Some believed that if they locked the door of their home and shut themselves inside, they would be safe," Rosa Chacón told us. Rosa volunteers for a government agency that issues emergency warnings when Fuego threatens. "I urged so many people to leave, to get to safety. They wouldn't listen."
Just a few yards from us in San Miguel Los Lotes a church once stood. Now it is entirely covered by the remnants of Fuego. The worshipers in the church were aware the volcano was threatening, and they received warnings to evacuate. Instead of heeding the warnings, they chose to remain in the church and pray that God would protect them. The entire congregation perished in the volcano.
As dust stirred by the heavy equipment was whipped through the area by gusting winds, a small crowd stood by as a yellow Cat digger removed bucket after bucket of volcanic debris. A body found while we were in the area lay covered by a pink sheet. The digger was stabilizing the area so the remains could be recovered. From there the digger would go the nearby home of the family with the disabled daughter to recover bodies there. The destitute families are covering the cost of hiring the digger and its operator as the government rescue and recovery mission has already ended.
As we were preparing to leave the area, a young man — maybe 18 years old — spotted someone holding several charred pages from a Bible. And with those pages — which included Luke 21 and the story of the widow's mite — was part of a small sheet of pink paper. There were large letters on the page, written in pencil. While it was impossible to read the entire message, it was clearly part of what was once a card given to mark a special occasion.
The young man recognized it as soon as he saw it. "Please, may I see that paper you are holding," he said to the missionary holding the page. "Yes, that's it!" he said, clearly having found something very special.
He was now holding the remnants of a Mother's Day card he had made for his mother years before. But while he had found what was left of the card, he had not yet found his mother. She was buried in the river of debris that had engulfed the family home. She was somewhere nearby, ten feet or so beneath where we stood. The young man wiped away tears.
Volcan de Fuego rises above San Miguel Los Lotes, a community entirely wiped out in the recent devastating disaster.
Herman Wilhelm, right, a member of our It Is Written team in Guatemala, prays with a young man who lost his family in the disaster.
Recovery efforts continue as people seek to find family members lost in the Guatemala volcano eruption.
Thank you for supporting It Is Written mission projects around the world. Please pray for our team in Guatemala and support It Is Written mission projects at itiswritten.com/give.