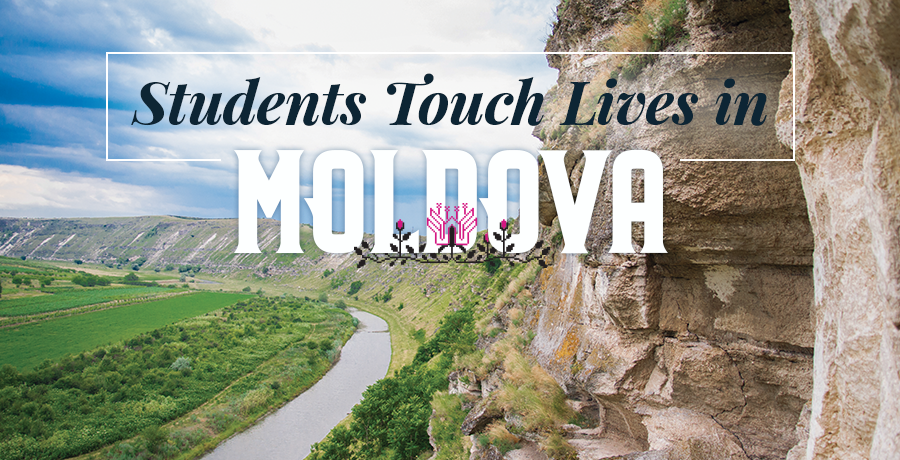 Written by Angela Emde, It Is Written Partner and trip sponsor
"Where should we go?" asked Angela, a high school teacher and It Is Written Partner. Her Tennessee Christian high school had made the decision last spring to take its students on an overseas mission trip. But to where? So Angela called Yves Monnier, Evangelism Director for It Is Written, and made some inquiries. Because It Is Written had already done mission trips in Moldova, it was a logical choice.
After doing a bit of quick research, the high school discovered that Moldova is a small country in Eastern Europe nestled between Romania and the Ukraine. Formerly part of the Soviet Union, Moldova overthrew communism in 1991. This small country has a struggling economy, making it the poorest country in Europe today. But where there is a great need, there is potential for a great harvest!
Fast forward almost one year. After months of fundraising and planning, twenty-six students and chaperones left East Tennessee on a warm February day, bound for chilly Moldova. While the weather there was snowy, blustery, and cold, the people of Moldova showered the students with the warmest love imaginable over the next eleven days, welcoming them into their churches, homes, and lives.
The mission work the students provided was multifaceted. During the day, the students and chaperones were divided into three teams. Two teams did community service in Cahul and in the surrounding villages of southern Moldova while a third team provided free vision clinics. In the evenings, the teams conducted two Vacation Bible School programs and an evangelistic series. The days were long but extremely rewarding!
Dr. Brad, optometrist, led his team in providing five vision clinics in five different churches throughout the week. These clinics provided free eye exams and glasses. Chaperones Kevin and Kezia (also It Is Written Partners) and Karyn led the pretesting and optical services. Students helped with pretesting, visual acuities, and eyeglass selection and fittings. At the end of the week, Dr. Brad and his team had seen 787 patients and dispensed approximately 765 pairs of glasses! These clinics helped the local churches build bridges with their community members. At one clinic site, the church members begged for the doctor to see just two more patients at the end of a long day. These two men had previously been afraid to set foot in the church because of their religious beliefs but were willing to come inside to get their eyes checked.
While Dr. Brad and his team were providing eye care, high school Principal Randy and wife Kathy and Pastor Alejandro and wife Suranny led two teams of students in community service in the various villages surrounding Cahul. Activities included cleaning houses, cutting wood, shoveling snow, passing out food to the poor, and visiting shut-ins and the homeless shelter. After the students distributed food at a homeless shelter, they sang, prayed, and gave a short talk. "When we were hugging them goodbye," student Katie-Jane shared, "One of the ladies exclaimed with tears in her eyes, 'We appreciate your visit more than the food. Nobody ever comes.' This alone made me glad we went to Moldova–the only way for them to have visitors was for our school to go all the way across the world!"
In the evenings, the teams went to two different churches. At one church, Pastor Alejandro preached a week-long evangelistic series and his wife gave health talks. While Pastor Alejandro preached, a team of students led a Vacation Bible School program for the children. Another group of students led a similar VBS program at a neighboring church. The students quickly bonded with the Moldovan children. On the final Sabbath when the pastor made an altar call, many children from the Vacation Bible School programs as well as adults from the meetings came forward to dedicate their lives to Jesus and request baptism.
The group was grateful to be used by God to further His work among the people of Moldova.