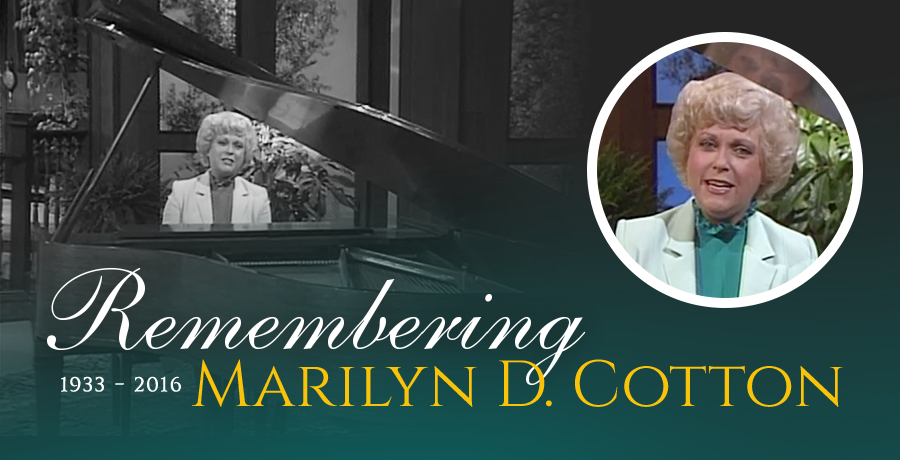 When It Is Written first went on air in 1956, the weekly television program was blessed by the beautiful singing of a young soprano who grew up less than 10 miles from It Is Written's current home in Chattanooga, Tennessee. She sang with It Is Written on television programs and at Partnership events until 1994, the same year It Is Written founder, George Vandeman retired.
I was deeply saddened to learn that Marilyn Cotton passed away several days ago near her home in Southern California. Not only was the ministry enormously blessed by Marilyn's ministry, but hearts were touched around the world as Jesus shone through her.
Connie Vandeman Jeffery, George's Vandeman's daughter, grew up knowing Marilyn Cotton. "I praise God for Marilyn's legacy of generosity and love," Connie told me. "I praise God for her influence on my own life, for her humble, gracious witness—through words, through actions, through song. She has left footprints on our hearts and lives."
As David wrote in the Psalm 116:15, "Precious in the sight of the Lord is the death of His saints."  Along with her husband Dan and daughters Patti, Jenny, Beth, and Lori, I'm looking forward to seeing—and hearing—Marilyn again soon.
Click here to watch Marilyn minister through music on It Is Written Classics.
---
Click below to hear Marilyn singing "Behold Him", a beautiful song describing the very next thing she will see when she wakes at the Second Coming!
Click below to watch Marilyn sing "Jesus Loves Me"