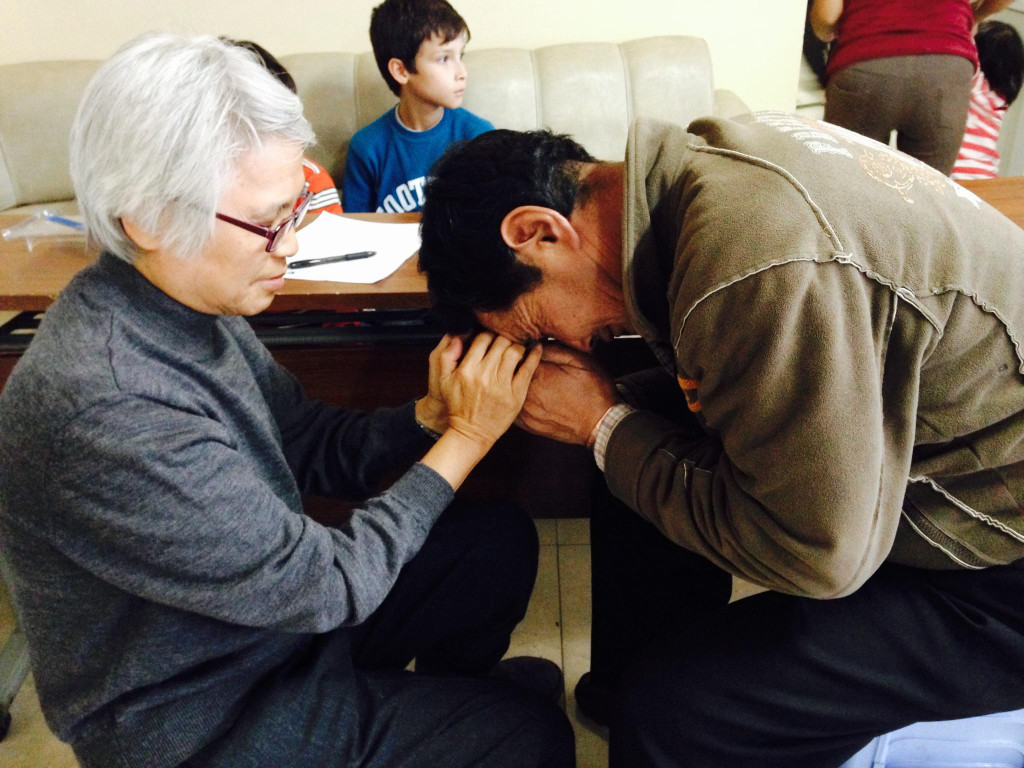 Even though many books have been written and sermons preached on the last verses in the Gospel of Matthew known as the Great Commission, those words can be summed in one simple sentence: Make friends for Jesus.
That's exactly what our team of volunteers determined to do from October 1 to 10 during the first medical mission trip of the Mission: Mongolia project. From across the United States, 18 It Is Written partners and friends converged upon Ulaanbaatar, the capital of Mongolia. Most of us arrived as mere acquaintances, however, by the time the journey was over, we had become family because of the powerful experience we had making friends for our Lord.
The Mongolian government rarely gives permission for buildings to be designated as churches. Instead, community centers are build to serve the local communities and provide a place for worship. Our mission involved working with two community centers located in neighborhoods where the poorest of the poor Mongolians live. These are neighborhoods where there is no running water and in some cases even no electricity. Imagine these places in the dead of winter when temperatures drop to -30°F and people, for example, have to fetch water at the local water station up to a mile away. Living in Mongolia is definitely not for the faint of heart. Thankfully with money provided by It Is Written friends, wells were drilled so that community centers would have running water—something that made them very popular places for visitors.
On the first day of our clinics' operation, the It Is Written team and the faithful local church members transformed the community centers into makeshift clinics. We set up waiting rooms, consultation rooms, and even little pharmacies. Once done, we wondered if anyone would show up. We didn't have to wonder long because at both locations long lines of people quickly formed with people eager to meet with the foreign doctors.
With the help of dedicated translators, the team began to see patient after patient—700 altogether. As life-changing as a visit with a doctor could potentially be, we knew that the greatest blessing an individual could receive was the loving touch of Jesus through one of His children. So by God's grace we determined to reflect the loving presence of Jesus through words and actions to a people who have no clue who Jesus is (over 97% of Mongolians are Buddhist or nonreligious). All consultations ended with a prayer and an invitation to a health presentation in the evening.
Every evening a miracle took place: the two community centers' meeting halls were full. These are community centers that usually have just a handful of people in attendance. Every evening it was standing room only—to the point that one of our physicians donated money for more chairs. The nightly health presentations were followed by what we referred to as "Jesus Talks", short personal and heartfelt talks to introduce people to Jesus. These nightly presentations were so successful that on Sabbath morning the regular attendance doubled. What a blessing it was on Sabbath morning to see all these special guests attend the worship services and receive their very own Bible in Mongolian. You should have seen their smiles.
One of the guests was a young pregnant woman who was suffering terrible back pain. She was so moved by the kindness of the Christian caregivers that she came every night to hear about Jesus and attended worship services on Sabbath. This revealed the power of combining healthcare with the gospel and making friends for Jesus.
If you're interested in also making friends for Jesus in Mongolia, we have an upcoming mission trip in April (13–25). We need health professionals! Physicians, dentists, nurse practitioners, nurses, etc.
Please e-mail [email protected] for more information.