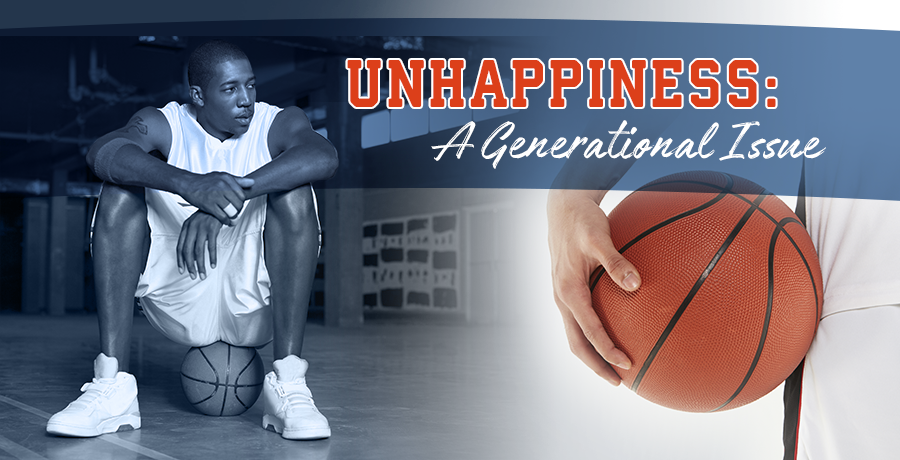 You might think that a young man with money, fame, and the adulation of thousands (or millions) of people would be the happiest person on earth. Living the dream, wealthy beyond imagination, hot and cold running everything… What's not to love?
Evidently there's a lot not to love. Earlier this year, Adam Silver, the commissioner of the National Basketball Association commented on the mental health of professional basketball players. He said, "What surprises me is that they're truly unhappy." He explained that there are "pervasive feelings of loneliness and melancholy across the league" and stated that many players are lonely. "If you're around a team in this day and age, there are always headphones on,'' Silver said. "[The players] are isolated, and they have their heads down.'' He reported that one player said, "From the time I get on the plane to when I show up in the arena for the game, I won't see a single person." Mr. Silver's comments were reported on boston.com.
There are several factors at play here. One is that social media and electronics allow people to very easily become isolated. A generation ago it wasn't possible to put earbuds in and separate yourself from what was going on around you, whereas today it's not only possible but extremely common. Smart phones allow people to immerse themselves in another world, away from the reality of what's happening in their presence. For these and other reasons, young men at the height of their professional powers are miserable, not happy.
But this phenomenon isn't unique to über-successful sports people, at least not according to Mr. Silver. "I don't think it's unique to these players,'' he said. "I don't think it's something that's just going around superstar athletes. I think it's a generational issue.''
If he's right, then loneliness and isolation and melancholy are a "generational issue." Put another way, mental health challenges are a "generational issue." But if young adults earning millions of dollars a year can't find happiness, who can?
Anyone can. It depends on where you're looking for happiness, and what you prioritize as truly important in your life. Psalm 16:11 says, "In Your presence is fullness of joy; at Your right hand are pleasures forevermore." While that might sound foreign to someone crowding God out of their life, God's promise is that when you make room for Him—when you spend time at His "right hand"—you'll experience "fullness of joy."
What is important to you? Where are you looking for affirmation? From where do you derive your happiness? If your focus is on acquiring money, possessions, and Instagram likes, life will ultimately prove to be a hollow existence. But when you let what is important to God become important to you, life has a way of becoming decidedly more meaningful. Psalm 37:4 says, "Delight yourself also in the Lord, and He shall give you the desires of your heart." That's a very similar thought to the one expressed in Matthew 6:33: "But seek first the kingdom of God and His righteousness, and all these things shall be added to you."
Of course there's nothing inherently wrong with earning large sums of money and enjoying professional success. But the Bible and society tell us that these things aren't the key to happiness. They may even be major contributors to unhappiness. Real happiness comes from oneness with God. Paul wrote in Romans 5:1, "Therefore, having been justified by faith, we have peace with God through our Lord Jesus Christ." The person whose sins are forgiven has peace in his or her heart. The one who understands the love of God experiences a deep-seated joy. The one who knows he or she is living out God's purpose is a person who has a settled existence.
Be sure you're taking time for God. The knowledge that God has your heart gives you the certainty you need to live with meaning and hope.
---
If you are experiencing mental health challenges, please seek professional help.