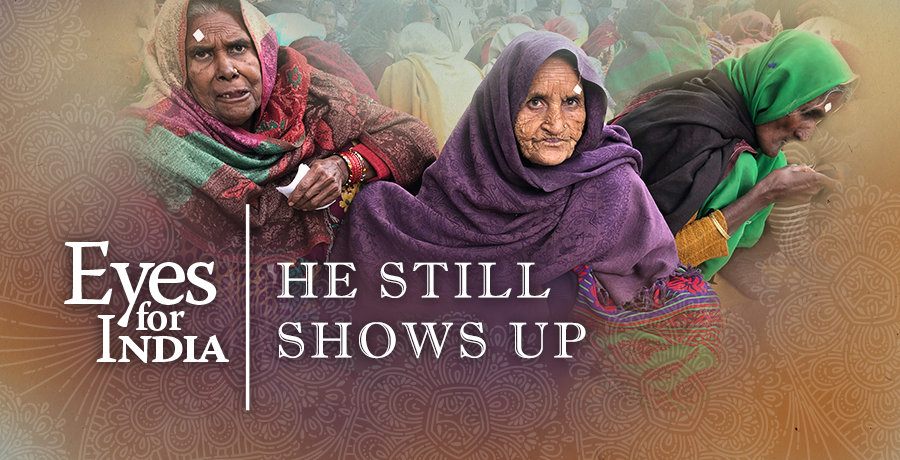 Have you ever wondered what it might be like to step back in time? Perhaps you jet back 2,000 years and find yourself in a Jewish village hamlet of Jesus' day? When He showed up in town, the quietness was broken. The desperate poor rose from their squalor. They pressed into His presence for the healing they could secure in no other way. Would you fear to feel the press of that desperate crowd, each anxious he might miss the hoped-for healing?
A time machine is not required to be launched into a similar time and place. In January, I found myself in the unfolding light of dawn in the Indian region of Uttar Pradesh. As shadowy figures took form around me, I knew I was seeing what Jesus saw and feeling what He must have felt. I wished He was here to touch the lives that flowed passed.
Three men move quickly through the morning mist. One weather-beaten, one middle-aged, and the last a lad of only 10. Opaque eyes tell of his darkness since young. In the cataract belt of India, it is too frequent that young children are born with or develop cataracts at an early age. The lad sweeps his head to and fro. Perhaps he's listening to the murmuring world about him. Because the middle-aged man had cataract surgery in one eye already, he steers this train of three skillfully towards the clinic door where It Is Written is sponsoring an eye camp. Today all three men will be operated on. Grandfather will see for the first time in 10 years. Father will gain sight in his second eye. And our doctor hopes the young lad is not too late to recover some sight. No one knows if his brain will know how to see once the obstruction to light is removed. If only he had come sooner.
Next to the Hindu temple a short distance away, I see another soul. I notice she's bent low over a leaf-plate stitched together by thin twigs. The fingers of this frail woman scoop lentil mush into her hungry mouth. There are 200 others eating just as she is. They have all had eye surgery yesterday. When the sun rises higher, they will head home, excited about recovered sight. When the small heap of nourishment is gone, she folds this disposable plate, rises to throw it away, and washes her hands. Suddenly her slight frame stops when she unfolds to her waist. I inhale sharply. Osteoporosis has robbed her of height. Her entire world view is the earth beneath her feet. She is forever locked into this boomerang-shaped stance. If only the healer was here to cure more than just her sight.
I turn to the sound of shuffling. I see a blind lady's anxious feet sweep the unfamiliar road as she haltingly gropes her way to the clinic. I wonder how far she has come. Some I've spoken to have traveled a day and a half by train. The milling crowd parts to let this stumbling woman through. Hope is within reach. The sticker above her right eye indicates one blinding cataract will be removed. Tomorrow faltering feet will move with solid determination homeward.
The crowd continues to flow past. How is it possible there are so many? Poverty has treated each cruelly. The want of proper food has left their eyes to suffer. The want of money has delayed them in seeking and securing a cure. But now they are finally here, each with hope for a better tomorrow. I have been told they arrive in waves of 400 plus each day. By the end of the 10 days scheduled for this camp, at least 4,000 will come seeking help and over 2,000 will receive their sight again. I wish Jesus was here.
A smile nudges my feeling of helplessness. Jesus is here. In the form of His friends, He has shown up in town today. Through the eye camps sponsored by It Is Written and the faithful work of Dr. Jacob Prabhakar and his team, the desperate poor can gain the healing they could secure in no other way. I'm not afraid to feel the press of this desperate crowd, each one anxious he might miss the hoped-for healing, because I know there is help beyond that clinic door. Through the hands of sacrificial donors, the surgeon, dedicated nurses, and numerous volunteers, Jesus is certainly here. There is hope for tomorrow.