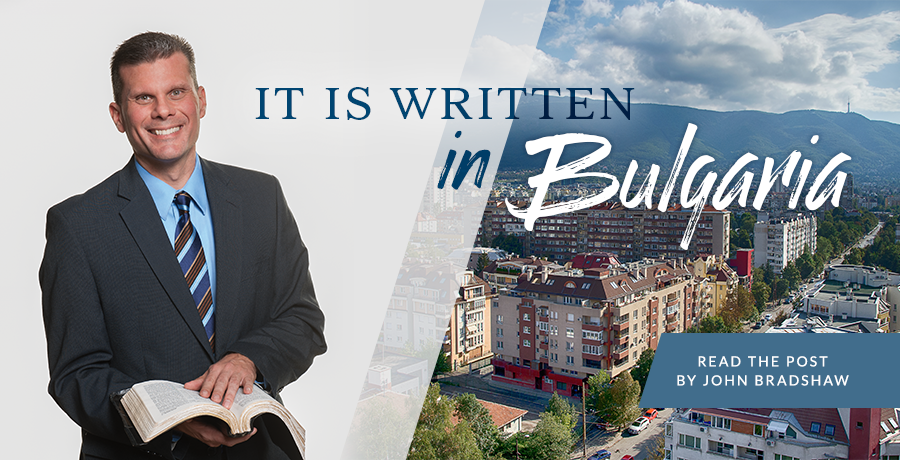 Starting this weekend, It Is Written Associate Speaker Eric Flickinger will be leading a major outreach effort in Sofia, the capital city of Bulgaria.
Bulgaria, a socialist country for almost 50 years in the twentieth century, is bordered by Greece, Turkey, Macedonia, Serbia, and Romania, while to the east it is bordered by the Black Sea. It is known for its winemaking, roses, and world-renowned yogurt.  More than three-quarters of Bulgarians describe themselves as Eastern Orthodox, with another 10 percent being Sunni Muslim. While Protestants are a minority in Bulgaria, the gospel has been moving with power since the fall of communism.
Pastor Flickinger will be partnering with a group of 12 pastors and administrators from Maryland as part of the Total Member Involvement initiative, designed to encourage all church members to use their God-given talents for the glory of God. "The purpose of TMI is—as the name suggests—to get every church member engaged in sharing his or her faith," Pastor Flickinger said. "A concerted outreach program has been in place for many months, and along with an outstanding team I'll be preaching the message of Christ and calling people to make a decision for the Lord."
Evangelists will be speaking throughout western Bulgaria, while Pastor Flickinger will be holding meetings in Kyustendil, about 100 kilometers (60 miles) from Sofia, Bulgaria's capital. Kyustendil is largely populated by Romani (Gypsies). "I'll be working with a group of 12 pastors, providing training and evangelism mentorship during the day. Then, in the evening, we will each be preaching meetings in different cities across western Bulgaria. This is another way It Is Written invests in the work of the gospel around the world. On the one hand, we proclaim the message, while at the same time providing training for gospel ministers in the area of evangelistic outreach."    
Bulgaria is a historic country, and this work of gospel ministry will make a historic contribution to the forward momentum of the gospel.
Pastor Flickinger has conducted outreach events in numerous countries and is encouraged with how church members and leaders in Bulgaria have prepared for this initiative. "Please keep this important outreach effort in your prayers as our team seeks to bring the gospel to the wonderful people of Bulgaria."