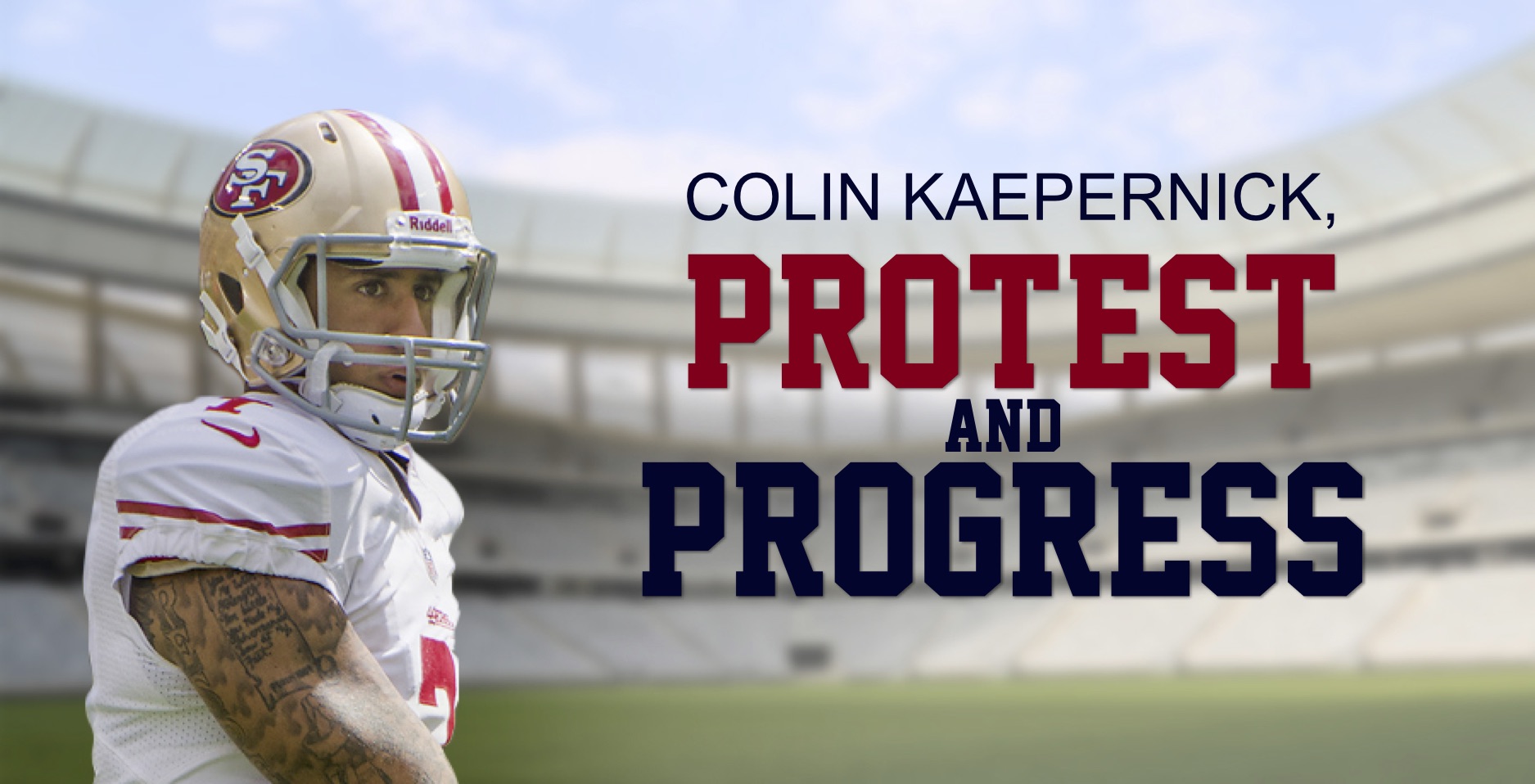 One thing that we've learned in recent weeks is that Colin Kaepernick still plays professional football.  Having made little impact in the national game for the best part of two seasons, Kaepernick, 28, made the news recently for choosing not to stand during the playing of the national anthem at a San Francisco 49ers pre-season game.
"I am not going to stand up to show pride in a flag for a country that oppresses black people and people of color," Kaepernick said.  "There are bodies in the street and people getting paid leave and getting away with murder."
Standing during the national anthem is not compulsory for NFL players.  In response to Kaepernick's protest the National Football League said, "We recognize the right of an individual to choose and participate, or not, in our celebration of the national anthem."
Predictably, response to Kaepernick's gesture was not unanimously positive.  Many were quick to condemn Kaepernick – a one-time standout who will start the football season as the 49ers backup quarterback – for being unpatriotic and disrespectful.  Sportswriter Peter King reported that a sign at Qualcomm Stadium in San Diego last Thursday night read, "YOU'RE AN AMERICAN ACT LIKE ONE."[1. "Freedom of expression, I'd like you to meet freedom of expression…"]
Kaepernick, sensitive to the feelings of American service personnel, modified his stance by taking a knee during the anthem in the 49ers final preseason game.  And he has announced he would donate the first million dollars of his $11.9 million dollar salary this year to community groups or charities.
Colin Kaepernick isn't the first person – or the first sportsperson – to protest what he sees as civil rights abuses against people of color.  His protest is reminiscent of that of Tommie Smith and John Carlos, the gold and bronze medal-winning athletes in the mens' 200 meters track event at the 1968 Mexico City Olympic Games.  Smith later described the raising of their black-gloved fists during the medal ceremony as a "human rights salute."[2. Australian Peter Norman, who won the silver medal in the event, wore a human rights badge during the medal ceremony in solidarity with Smith and Carlos.  Smith and Carlos were pallbearers at Norman's funeral in Melbourne in 2006.]  Smith and Carlos were expelled from the Mexico City Olympics at the urging of then IOC President Avery Brundage, and against the wishes of the US Olympic Committee.  Upon their return home, both athletes were subjected to intense criticism.[3. Interestingly, history has been kind to Smith and Carlos.  They were honored with the Arthur Ashe Courage Award at 2008 Espys, and their stance in 1968 is now respected and appreciated seemingly by the vast majority of Americans.]
One need not agree with a particular protest to recognize demonstration often shines a light on a society's ills.  Without the protests led by Mohandas Gandhi, independence would not have come to India as soon as it did.  Cesar Chavez' work on behalf of farm workers changed the agricultural and social landscape in this country.  Dr Martin Luther King's contribution to the advancement of civil rights in the 1960s was responsible for…
Well, let's stop and consider that.  In an age where Americans are asking themselves whether Black Lives Matter, it can be admitted that Dr King moved America's disastrous civil rights situation out of the darkness and into the shadows.  If the protests of Dr King and the thousands of others who stood, marched, sat and occupied with him had truly been successful, Colin Kaepernick's jersey wouldn't currently be the best-selling jersey in the NFL.  Kaepernick would be just another well-paid has-been hoping for another shot at glory.
Are protests successful?  Sometimes they are.  Half a century after the racist Governor George Wallace stood in the doorway of Foster Auditorium at the University of Alabama, 4500 African American students are enrolled at the school.  But sometimes protests result in little true progress.  Since Gandhi's death in 1948, now-independent India is wracked with poverty, caste violence, religious tension and territorial disputes.  Numerous Indian politicians have been assassinated, including former Prime Minister Indira Gandhi and her son, Rajiv who succeeded her as India's political leader.
There's a reason protests infrequently lead to lasting change.  Protest cannot change the human heart.  That's not to say there isn't a place for protest.  But it is to say that the only force that can bring real change to the human heart is the gentle yet powerful force of the Spirit of God.
From his prison cell, John the Baptist sent disciples to ask Jesus a remarkable question.
"Are you the Coming One, or do we look for another?"
Not long before, John the Baptist had looked towards Jesus and boldly proclaimed, "Behold! The Lamb of God who takes away the sin of the world!"  (John 1:29)  John was convinced.  Jesus was the Messiah.  John had said he was unworthy of loosening the strap of Jesus' sandal.  He knew Jesus well: his mother and Jesus' mother were sisters.  Jesus was his cousin!  And now John calls into question the validity of a ministry he once whole-heartedly endorsed.
John had expected the Messiah to expel the hated Romans from Israel, and bring freedom and prosperity to the Jewish nation.  But Jesus was urging people to reach for a different kind of greatness, and by methods altogether different from those contemplated by John.
Jesus' response to the disciples of John was fascinating. 
"Go and tell John the things which you hear and see."  (Matthew 11:4)
And what was it they had heard and seen?
"The blind see and the lame walk; the lepers are cleansed and the deaf hear; the dead are raised up and the poor have the gospel preached to them."  (Matthew 11:5)
While Jesus was by any measure the greatest counter-cultural revolutionary who ever lived, He realized the kingdom of God could only be established upon changed hearts.  He could have urged protest and demonstration, but the lasting change he sought to make would be effected one life at a time, one medical missionary visit at a time, one personal encounter at a time.  Souls would be won one study at a time, one tract at a time, one sermon at a time, and – most importantly – one revelation of the character of God at a time.
Whether Colin Kaepernick sits, kneels or stands during the national anthem is entirely up to him.  An American's right to express his or her opinion in a lawful manner is enshrined in the Constitution.  But Kaepernick's protest isn't going to change much on the American landscape. Some will be offended, others will celebrate, some will pause to reflect, most will not.  Placards and picket lines and gloved fists and sitting football players definitely have their place in an open society.  But protest – even needful protest – only brings incremental change at best because protest doesn't change the heart.  Agree with him or not, Kaepernick is standing – or not standing, as is the case – for what he believes.  He wants to see change.  But he isn't likely to see it.  Not in a sinful world.  Because real change only happens when hearts are softened and transformed by the Spirit of the living God.[4. It should be pointed out that the validity of Kaepernick's protest does not depend on whether or not his protest results in change on any level.  The "success" of a protest and the validity of a protest do not necessarily correlate.]
Before Jesus returns, God's people are going to reveal to the world the beauty of the character of Christ.  And they'll do so by demonstrating to the world – one person at a time – the inarguable reality that Jesus Christ is the Savior of the world, and that the God of heaven is love.